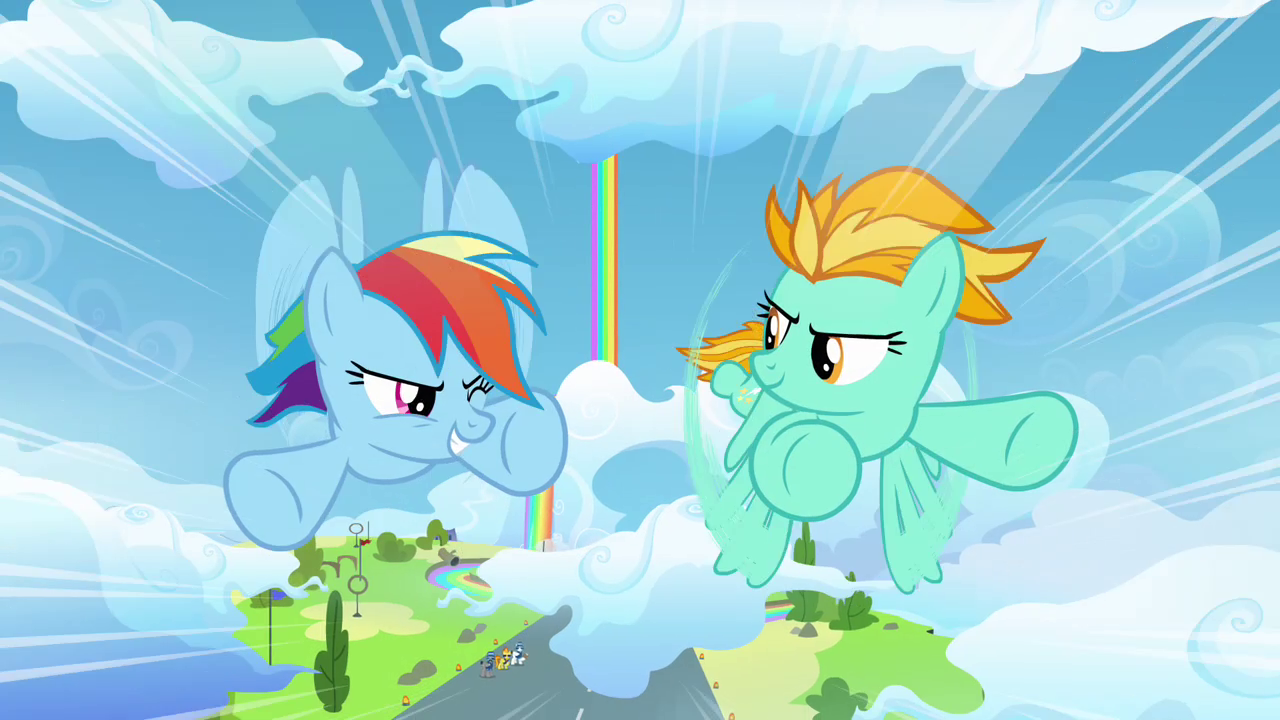 Have you guys ever watched a TV show called "The Hitchhiker's guide to the Galaxy"? It's probably one of the pillars of science fiction, based on the novel of the same name, and then adapted into a movie starring Martin Freeman from "The Hobbit: An unexpected journey". I bring this up because, in this TV show, there is a moment where two characters go talk to a super advanced super computer that has been calculating the answer to the question: "What is the meaning of life, the universe and everything?" When it comes to deliver the answer, the computer, very apologetically, tells them: "You are really not going to like it". Well, imagine the computer is not a computer but a fairly chubby, twenty seven year old, Spanish guy who writes reviews of pony episodes in his spare time. I can totally understand the computer now. I can understand the dread it feels before delivering its answer. Because, seriously, you are really not going to like what I have to say about this episode. Unless your opinion is similar to mine, of course. On to the review!
Shortest TL; DR I have ever done. Is this episode good? Objectively speaking, yes. Did I enjoy it? No. If you want to find out why keep on reading.
So the episode starts, being this a Rainbow Dash centric episode, at Rainbow Dash's house, most specifically with the Mane Six waiting underneath it for the mail to arrive with a letter from the Wonderbolts Academy. We see Pinkie Pie bouncing up and down, left and right, completely bonkers and out of control as she is freaking out with worry about the mail. When will it arrive, and if it does, will they be good news or bad news? We learn through this exposition that Rainbow Dash is waiting to see if she got accepted or not. After a few hijinks with Pinkie, she crashes onto the mail pony who delivers the letter to Rainbow Dash, whom proceeds to open it and find out that she got rejected. Not really, no, she got accepted in the academy and she was just pulling the leg of her friends and the audience. That is something very Rainbow Dash, of course being her a character that walks the fine line between nice and jerky. After she survives Pinkie Pie's bear hug, she grabs her saddle bag and darts into the sky to the academy, but not before Pinkie grabs a megaphone and bends the mountains and the trees with her earth shattering yell, only to remind Rainbow Dash to write her a letter as soon as she arrives, of course, because Dash is always so thoughtful at remembering her friends. I kind of understand Pinkie Pie's concerns now.
Don't tell me they changed Spitfire's voice again! Who

do they think she is? Bonbon!?
After the intro, and another Gak-free commercial break, we see Rainbow Dash arriving to the academy. In there we see some of the different drills the pegasi do, not all of them being spectacular yet as we are just entering the grounds of the place. Their costumes are pretty badass though. There is a fairly strong military feel to it, and I am pretty sure those who love movies like "Starship Troopers" or "Full Metal Jacket" will appreciate this intro. I wonder what the opinion of our military bronies is, so if you happen to be one, let me know in the comments. I have nothing but respect for you guys. Rainbow Dash finally steps in line for the usual check up as Spitfire presents herself wearing a pretty boss pilot jacket and glasses, acting like a tough drill instructor. She spouts a couple of demeaning insults to some of the cadets, like any drill instructor would do, and as she reaches the end of the line we are presented to the new character in this episode, Lightning Dust. Lightning Dust is the only cadet that gives Spitfire a defying reply, which ends with the whole squad doing five hundred laps around the track. Following her orders, the cadets take on the flying and only Rainbow Dash and Lightning complete the five hundred laps in a time record, which brings the two pegasi closer together. I have to admit, I really like how at the beginning they make Lightning Dust such a likeable character. She is brass, but she acts like that because she wants to be the best, and she sees the same in Rainbow Dash. It's interesting since we can consider Lightning to be how Rainbow Dash was in Season 1, so she is basically facing her old self.
Old Rainbow Dash was also going through a crisis of the

80's.
We then cut to Ponyville where we see Pinkie Pie, standing in front of the mail box, pressing F5 over and over again. Maybe she is waiting for Equestria Daily to reply about her fanfic. Not really, she is waiting for Rainbow Dash to send her a letter, and any of us who have been waiting on an email reply from a very close friend or family member knows what it feels like. After one minute of Pinkie Pie speaking like a machinegun we return to the academy, where the cadets are facing one of their first trials: The Dizzytron, which looks like something that would belong in a Nickelodeon family show. It's a machine that puts the pegasi into a spinning motion, and then launches them into the air, and they have to recover and make a landing without hurting themselves too much. Those who try it barely land properly. When Rainbow Dash gets a turn she recovers incredibly quick, which is no surprise after all the training she's been doing prior to this episode, and manages to break the academy's record. However, when Lightning Dust gets a turn, she asks the instructors to put the machine to be set to maximum speed as she wants to test her limits. With the machine at full speed she recovers almost as fast as Rainbow Dash, but doesn't manage to break the record. Regardless, that's a pretty impressive feat, especially when you consider how fast the machine was going. After this exercise Spitfire announces she will divide the pegasi into teams, with a leader pony and a wing pony in each. With the confidence only Rainbow Dash can gather she trots into the mess hall to see the lists, and with the disappointment only Rainbow Dash can get, she realizes she was not made leader pony, but wing pony instead, as her leader is Lightning Dust.
It's like "Top G
un", only manlier.
This causes Dash to storm into Spitfire's office, where we see the brave and bold Wonderbolts Captain… signing autographs. It took me a moment to realize she was not doing paper work as much as she was stomping her hoof on pictures of the Wonderbolts. Rainbow Dash demands an explanation to why she wasn't made a leader, and Spitfire simply says that Lightning likes to push her limits, while Dash just stays with what she is familiar with. That makes a lot of sense, we all know how lazy Rainbow Dash can get, and how much of a slacker she is, so when you put a more active pony next to her that flaw will shine like a red beacon. Defeated, Dash leaves the office, as we cut to the next exercise in the course, which is basically capturing the flag. We even have a small moment between Dash and Lightning where the later shows her golden leader pony medal to the former. It's a very nice touch, and it says a lot about her, it's like Lightning is saying: "Look, isn't it cool? We are going to be the best team". I really liked that. During this exercise there are two teams of pegasi working against each other to capture the flags of the other team. After some scouting around Dash and Dust find a flag in the bottom of a pit, but when diving to get it Dash hurts her wing trying to keep up with Dust. Here we start to see how Lightning is not a very good team player, as she doesn't give a flying feather whether Dash got hurt or not, and apparently Spitfire doesn't seem to care either. She looks rather peachy about Lightning Dust being more secure than Rainbow Dash. Back to Ponyville, we see Pinkie is still standing in front of the mail box, with clear signs of being sleep deprived, her hair is all messy and she has big bags under her eyes. Seeing as she will never leave the mail box alone, Twilight suggests Pinkie to write a letter to Rainbow Dash, but Pinkie goes the extra mile by suggesting they all go deliver a care package to her at the academy. Rolling their eyes, the rest of the mane six agree to go. Back to the academy, the next exercise is taking place: An obstacle course full of clouds, lightning, air currents and storms, which the cadets have to traverse through without the need to be the first, since it's not a race. All they have to do is finish the course regardless of the time. However, this doesn't faze Lightning Dust at all, as she shows that she doesn't care for rules or her other squad mates. She spends half of the exercise complaining about how slow those before her are, and the other half she breezes through them making them crash into the clouds. This doesn't seem to anger Spitfire at all, who compliments Dust on how fast she went through the course while breaking another academy record, before going to help the rest of the cadets that got stuck in the clouds. This does anger Rainbow Dash though, as her loyalty shines through and tells Dust to never do that again. You can guess she is going to do this again before the episode ends, as she shows no remorse at all.
Dash: "I feel like Tom Cruise when Dustin Hoffman won an Oscar for Rain Man"
When we return from commercials, we see the squad clearing up the sky in what seems an eventless exercise. It's so boring and safe that, even though Lightning Dust and Rainbow Dash have cleared way more clouds than any of the other pegasi teams, Dust wants to get even further ahead. Rainbow Dash, remembering Spitfire's words about pushing their limits, decides to agree with Dust and see how far they can go together, so she agrees to Dust's idea and together they create a tornado to clear up the sky. This was clearly as genius idea, as the tornado quickly escapes their control and starts rampaging around destroying everything around it. Things only get worse when Twilight's balloon arrives at the academy with the rest of the Mane Six, and gets trapped in the tornado, which snaps the ropes and sends the five ponies in a fall to their deaths. Dash sees her friends falling to their doom and, after a hilarious screaming of "No!" she dive bombs to save their lives by creating a spring out of clouds and having them bounce up so the other pegasi can catch them. After landing them all safe and sound at the academy grounds, and making sure they are all okay, Dash and Pinkie are reunited as the pink pony hugs her friend, again, to the point of almost chocking her. Then Lightning Dust shows up again saying how cool that was, showing no remorse or concern about almost killing five ponies, insulting the rest of the teams for being so slow when clearing the clouds, and basically acting like a heartless bitch. And to make things even worse, she offers Rainbow Dash a hoof bump. Rainbow, having had enough of Dust's attitude, refuses the hoof bump and spouts all the vile that she had been forced to swallow during the last fifteen minutes. But then we have Dust's response which is all shades of cliché and predictable. She doesn't care about all the trouble she has caused to Dash, the cadets and the Mane six because the Wonderbolts don't seem to care either, so Dash takes this matter to Spitfire directly (after Spitfire mentions that they broke another academy record with the clouds clearing) and decides that, if being a Wonderbolts means being reckless and irresponsible, she's out. But as she is about to leave the academy, Spitfire shows up again, strips Lightning Dust off of her golden leader pony badge, and gives it to Rainbow Dash, saying that she does have the spirit of a leader. After a freak out of the "Oh my Gosh" variety, Dash goes to her squad as they head towards their next exercise, while Pinkie Pie stays on the ground screaming about her care package.
So that was "Wonderbolts Academy", and despite it not being a bad episode I can't say I enjoyed it.
I will start with the things I liked, just so I can get on the same page of those who did like the episode. I did like Rainbow Dash here, and a lot. She was a very good character, and it shows how much she has evolved from the previous seasons up to this one, especially when you put her in contrast with Lightning Dust. She does show her loyalty, not just to her friends but to her squad mates. She is thoughtful and careful, and she takes everything into consideration, including respect towards Spitfire. Even when she is angry she is respectful and thoughtful. I didn't expect Dash to word her anger so well when she confronts the Wonderbolts captain at the end of the episode. It was great to see that, at least in what regards to Rainbow Dash, they have kept her consistent. One of the best moments of the entire episode was right after she quits the Wonderbolts, when she steps out of Spitfire's office she stops for a second to take a quick breath, and her face is heartbreaking. You can feel how much it tears her apart to give up her dream, and how much that affects her. It's only a couple of seconds, but it means a lot and it gets stronger when her friends are consoling her before leaving. I also really liked the visual aspect of this episode. While it's not as impressive as "Magic Duel" or "Sleepless in Ponyville" it was a neat touch to see the different set ups that the academy has, plus all the different outfits and the location of the place itself. Also, it wins extra points for the return of Snowflake. He is just…I have no words, he is too good to be real. I liked Spitfire too, but I think I have to explain my feelings towards her more thoroughly. I really liked her attitude and the way she carries herself during the whole episode. I have the feeling many have had this same kind of drill instructor before, and it's only made better that she is a woman, well, a mare, but you know what I mean. Female military instructors are not seen in movies and TV shows often enough. I also loved how she looks over Snowflake's wings, only to top it off with an emasculating "You think you're hot stuff!?" before he sinks into his shame. I did have a couple of issues though with how they handled her character, like having her stand behind a desk and look angry like any sergeant you may have seen in any bad war movie ever, or why would she be signing photos of the Wonderbolts instead of doing other paperwork, but at least she did have a character arc (keep that concept in mind, I will bring it up again soon). At the start of the episode she is your typical drill sergeant, and during the majority of it she doesn't seem to care for Rainbow Dash's whining, because she knows she could be better. It's not until Lightning Dust's screw up during the cloud clearing exercise that she realizes she could be losing, not only a great flier, but a great flier who cares for the rest of the team, so she decides to swallow her pride, admit her mistake, and make Dash team leader.
"As for you, go peel po
tatoes on the mess hall, now!"
That's about everything I liked of the episode, which means I pretty much hated everything else. You know how I always say this is just opinion, I said it several times already in this review, so I will try my best to word it so you understand where I'm coming from, and just so we are clear, my expectations for this episode, as for every episode of the show, where zero. I was ready to be surprised, for the good and the bad. Here's the bad.
You know the bad is coming because it has a sad pony preceding it.
I hated the writing. I will clarify something right away; I have no quarrel against Merriwether Williams and her writing. I think her work in "Adventure Time" and "SpongeBob" gave some of the best episodes those shows have had. Also, her work in pony has been fairly decent too. I will go to the extent of saying that I do enjoy "The Mysterious Mare-Do-Well" as it is a parody of any 1940's superhero serial; "Hearth's Warming Eve" is a wonderful piece of world building that makes me tear up at the end every time; "Putting your hoof down" is a vindictive assault of the real world that makes all the ponies involved suffer with a vengeance and it's glorious; and even "Dragon Quest", which I also didn't like, gave us a very insightful look into Spike's inner turmoil. She does bring a very interesting twist to this so called idyllic land of magical ponies; she brings the real world to it. Her writing can get cynical and even violent, but that's why so many people enjoy her style, including myself. So, if I have no problem with her writing in previous episodes, why do I hate the writing in this episode so much?
To put it simple, this episode gave me nothing. Nothing at all. I can't take a single thing out of this episode. It doesn't move from square one. Rainbow Dash goes to the Wonderbolts academy and that's it. That's all we are given. She doesn't learn anything, because she was right from the beginning, Spitfire loses one of her fliers due to her being reckless, and Lightning Dust leaves the episode without completing her character arc. Not even the mane six learn a thing out of this experience. The biggest flaw of this episode is lacking what every piece of fiction must have in both its story and its characters: An arc. There must be a three parts structure every single aspect has to go through, with presentation, conflict and resolution. Here there is none of that. The story is structured so that the climax of the episode is Rainbow Dash giving up her dream, but towards the end her dream doesn't vanish because Spitfire decides it's not a good idea to do so, even though Dash is clearly quitting and has taken a decision. And when it ends, it feels like something is missing. It feels like we have five more minutes of episode left to see, which makes me wonder what was the original ending they had planned for this episode. Even if you don't have a three act structure in the story, at least give the characters a sense of growth.
Not that kind of gro
wth.
This new pony, Lightning Dust, she starts the episode like a very nice character, and half way through she starts giving signs of being reckless and careless, egotistical and just focused on getting the price. It would make sense that, after the tornado gets out of control, she apologizes and rushes to help Dash fix the situation. But no, instead she becomes even more reckless and careless by showing off, not apologizing, and not giving a feather about what she just did, which is to almost kill five ponies. And to add insult to injury, the story takes her character and tosses her aside. When Spitfire calls for her, and strips the golden insignia from her suit, Lightning just walks away without saying a word. She doesn't apologize, she doesn't say a word to Rainbow Dash, even after spending so much time together, which means this potential friendship and conflict that could have happened in here is completely lost. If you are going to make Lightning Dust the Ice Man to Rainbow Dash's Tom Cruise, you have to give her a proper character arc. You can't build up this fairly reckless but reasonably likeable character to become an utter bitch when the episode is nearly over, and then just write her off at the end like she is just a grammar error. It's not like Merriwether Williams has a problem with new characters. She introduced Iron Will and gave him both personality and an arc with no problem, why would she struggle so much with this character? I saw some fans bringing up the fact that Lightning is to Dash what Trixie was to Twilight, an antagonist that may or may not return, but even Trixie had an arc in "Boast Busters", she showed remorse, she showed some sort of humanity, and when she returned in "Magic Duel", regardless of how much of a bitch she was, she did have a redemption ending that closed her character arc. Lightning Dust has no redeeming qualities whatsoever, she is nothing to me but a waste of space that could have been so much better had the writer given her a much more proper character arc. When Spitfire, who's a character that barely had an involvement in the plot, has a better arc than your support character, you have problems.
Which
kills me, because look at how cool she looks!
Another problem I had with this episode was how the rest of the mane six are portrayed, especially Pinkie Pie. It's not like Twilight, AJ, Rarity and Fluttershy had any major part in it, but I am starting to realize how Williams writes each one of them. She focuses on one of their character traits and then exploits it beyond recognition. If Fluttershy is angry then she is really angry. If she is scared of dragons, she is very scared of dragons. If Rarity likes dresses she only talks about dresses. If Twilight does magic she only talks about magic. And if Pinkie Pie is really worried about Rainbow Dash she is only worried about Rainbow Dash. Let's hope she doesn't write an Applejack episode or else it will be twenty two minutes of AJ worrying over apples. We can't use the excuse that she is new to the show anymore. This is the fifth episode she's written and it still feels like she is trying to get a grasp of the characters. It wouldn't grind my gears so much, if it wasn't because the previous episode, "Sleepless in Ponyville" had a new writer attached to it who kept the characters three dimensional and even added traits to their personalities. That episode felt like it belonged within the universe of Friendship is Magic. That episode engaged me, it hooked me, it made me care for the characters. With "Wonderbolts Academy" I didn't care for anything at all. I didn't care if Rainbow Dash got into in the Wonderbolts, I didn't care for Lightning Dust and her behavior, and when the Mane six are thrown out of their balloon and start falling to their death, I was just checking the watch wondering when would the episode end. I hate to write these words, I really do, but I am not going to lie, what would Applejack say if I lie when giving my own personal opinion of this episode?
"Sugarcube,
Ahm dissapoint"
You may say that my expectations were too high, but like I said before, I had zero expectations for this episode. I was more than ready to be surprised and I was really looking forward to what we were going to have here. I avoided spoilers, and I saved myself from watching the leaked episode when it was released on Wednesday. I kept myself busy working on drawings, and only when I saw the post on Equestria Daily I remembered that there was a new episode this week. So my expectations were no existent, and I wanted to see what I could get from this episode. What I got out of this was nothing but air. I am not disappointed but I am not satisfied either. I am just very empty. Every episode of this show has given me something, for better or for worse, even those episodes that I did not enjoy at all. This one gave me nothing. Do I feel like I wasted my time watching the episode? Not really. Am I saying this is the worst episode ever? Of course not. Will I watch the episode again? Of course I will, especially if I hang out with friends who did like the episode, or if I feel like watching Rainbow Dash being Rainbow Dash for twenty two minutes. Is this the episode of season three that I like the least? Yes, quite possibly, but then this is my opinion, and I hope I worded this well enough so that you understand where I am coming from. There is a reason why I didn't link this to Equestria Daily, and that is because I don't want to throw in a rather negative review out there. I am not used to write them, especially for this show, and lately I noticed that negative reviews get a lot of jimmies rustled in this community, so I don't want to risk it, even though you guys who read my blog are very level headed, nice and well mannered.
I should also add "Cooler than Spitf

ire with sunglasses and a jacket"
So, to close the review with my final thoughts: Mediocre storyline, mediocre character arcs, mediocre introduction of a new character, mediocre use of the Mane six, fairly good visuals, okay use of Spitfire, really great characterization of Rainbow Dash, and as always stellar animation. But, you know, this is just my opinion.
- Defining Moment:
Rainbow Dash heading to Spitfire's office and giving back her medal, quitting her position to become a Wonderbolt. The little moment she has after stepping out is heartbreaking.
- Moral:
You shouldn't lose the focus of what matters and forget who you are, just to become the best at something.