Dear Brony Fandom, this week I learnt a very important lesson about we all. Sometimes, we may get angry, we might get ridiculous, or even overreact. All these times, we will regret our actions, and we will look back at them thinking how wrong we were when acting like this. But this isn't what I learnt, as I already knew that. What I learnt is that sometimes this fandom might seem difficult, and even harsh, but that doesn't mean is not worth fighting for. With my heart on my hand, I tell all the seventeen of you who follow me (and all you wonderful random visitors from EqD), that you guys are the best of the best. Even if sometimes you make me facepalm. And now let's stop being sappy and go for the episode review.
This here is a TL;DR and what follows is the full review. This TL;DR is short and concise, as it resumes my views on the episode in a small paragraph consisting on two questions. Those who prefer to partake on the long review, may finish this TL;DR and continue reading. Those who have better things to do, may skip to the end of the article once this TL;DR is over. Is the episode good in Friendship is Magic standards? It's amazing, good doesn't even begin to describe it. Is this the best episode of season 2? Guys, objectively speaking, it can very well be. And if you want to find out, keep reading.
So the episode starts with Pinkie Pie readying to recreate the ending of "Flashdance". Seriously, leg warmers, head bands, all she needs is to throw herself on a chair and pull from a rope that soaks her in sarsaparilla. But that doesn't happen (I don't know if feeling thankful or disappointed) as she begins her morning routine. Or so it seems, because what she does looks like what Robin Williams must do before a stand up, with all the over the top facial expressions and aerobics at the rhythm of gags. It turns out that she is, once again, taking care of the baby cakes, Pound and Pumpkin, and I swear to Luna I cheered up like a moron. The baby Cakes are amongst the most likable characters in this show. Seeing them again really brought a smile to my face and, wouldn't you know, this episode is all about that: Smiling, being happy! So the episode continues as we see Pinkie Pie going out in her daily routine, which consists in basically being nice to ponies. I have to point out, we have never seen Pinkie Pie interacting with anyone outside of her environment. We have seen her interacting with the Mane Six, or with the Cakes, but we never saw her interacting with, well, background ponies. So what she does with them is very nice: She makes them happy.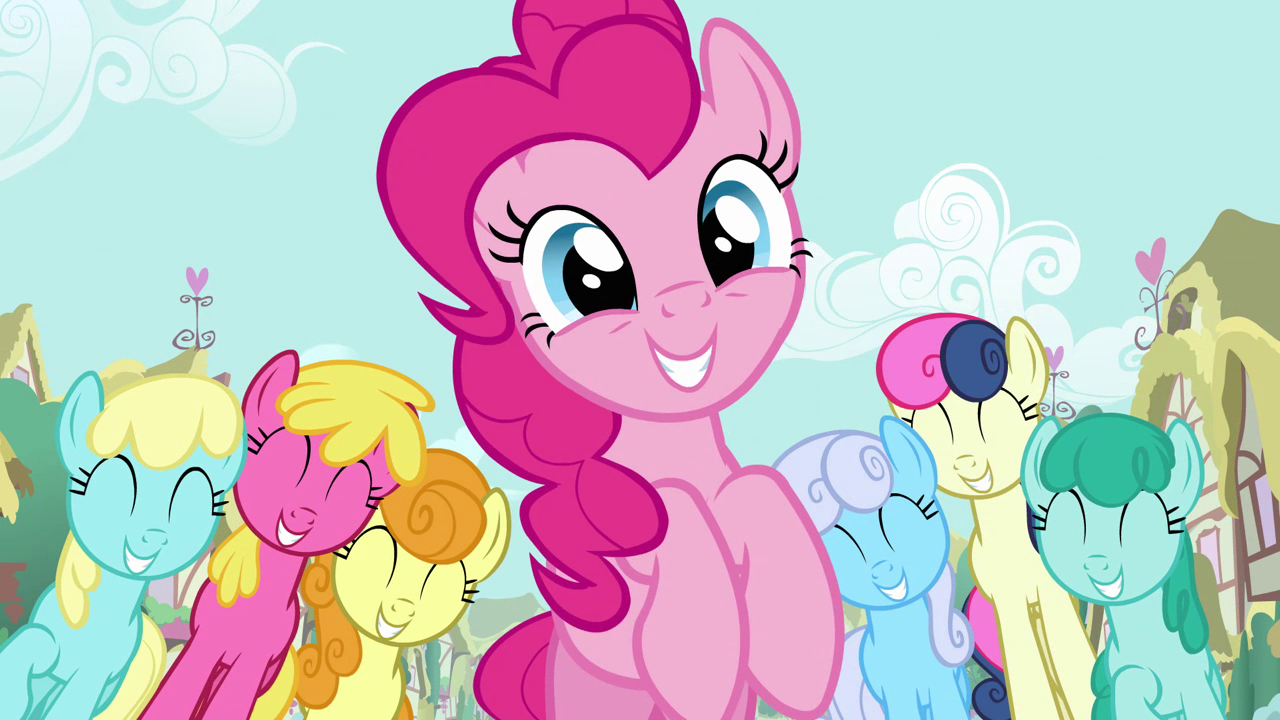 What kind of drug she uses, that's up for you to debate.
And then we get to the song. This was
the song that got leaked a few months ago
, and for several reasons I didn't listen to it. I was mostly being fair, because what's the point of listening to a song in this show without the visuals that give it impact? I also didn't want to over-hype it, but the side effect of that is that when you try not to over-hype something you end up dreading it. "Oh no", I was thinking, "Here comes the song and it's going to let me down". Yeah I know, lessons from this show would have teach me not to judge something before seeing it, but fear is something I can't control. But I am delaying my opinion too much, so here's what I think of it: It's actually really, really-Oh hell, "good" is a petty word, try "Absolutely Amazing"! This is my favourite song from My Little Pony: Friendship is Magic as right now. You can keep "Art of the Dress"; you can keep "Becoming Popular"; you can keep "May the Best Pet Win". This is the song that pulls my heartstrings and hits me right in the heartbeat valve. Why? Because it's a song about making you happy! It doesn't try to teach you a lesson, it doesn't try to tell a story, it just asks you for one single thing: Smile. It's so simple it's impossible not to be affected by it. The song starts really slow, very well paced, Pinkie Pie mixes the singing parts with the talking parts to a good degree, and by the end there's chorus, a parade, Pinkie surrounded by all her friends (which basically amounts for the entire town), all joined together just because they want to be happy. If I ever feel down I will crank up my iPod, put this song in and cheer up. It's a definitely "feel good" song, which fits with this episode's tone as it also is a "feel good" story.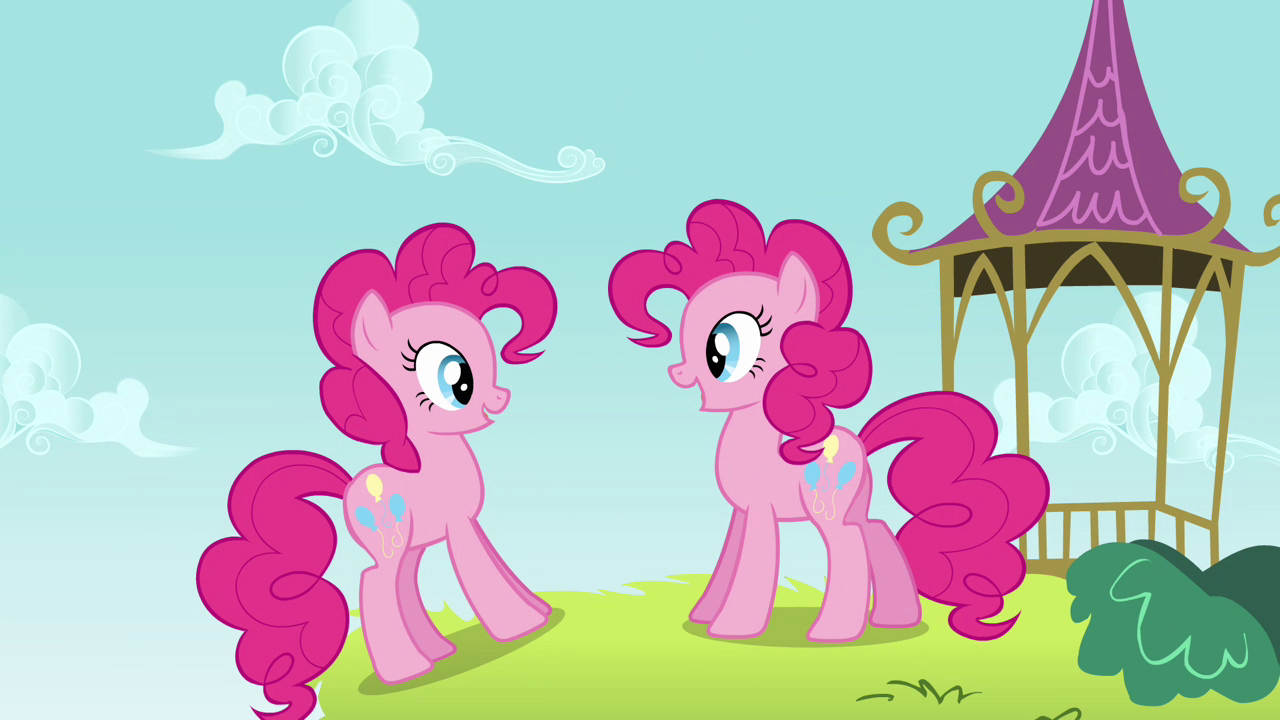 There is also a subtle message about cloning and genoma soldiers.
So now that I talked long and gone about this episode's song, what about the story? Well apparently there is a new coming resident to Ponyville, an old donkey called Cranky Doodle, who doesn't seem all that happy to begin with. From the get go he was giving me "UP" vibes. The way he talked, and his overall attitude reminded me a lot of Carl Friedricksen, especially his constant use of the word "kid" when talking to Pinkie Pie, and Pinkie's behaviour towards him. Cranky is moving to Ponyville, after spending years travelling all over Equestria, and he doesn't seem that open to make new friends. Pinkie, shocked by this, phases into Kirby's Epic Yarn Land and checks over the things she has done to try and appeal to Cranky. That whole segment is priceless. Yeah, I know Spongebob does something similar from time to time, but I never expect this coming from My Little Pony. It's a refreshing change of style that is cute, it's funny, and helps to explain how Pinkie Pie thinks. Then she pulls one of those green "check" signs out of her head and freaks me out. I guess it's pretty much confirmed there people. Pinkie Pie is completely self aware of her cartoon nature. I'm calling it guys, there will be a future episode where Pinkie Pie steps through the PC screen of the animation department and hangs out with Jayson Thiessen and Daniel Ingram in an Irish Pub.
First this felt "Check". And then, The World!
So Pinkie is set to appeal to Cranky but all her attempts fail miserably. She tries to talk to him, but he's not that interested in making new friends. She tries to present him to a welcome waggon, only for it to backfire (literally) on her attempt. She goes as far as taking him to the Spa and gifting him a new wig (fabulous wig). Despite Cranky being impressed, and somewhat pleased with Pinkie's last attempt at making him happy, he still doesn't smile, which puzzles her. We then cut to his house, located in the outskirts of Ponyville, where Pinkie Pie finds out Cranky has all sorts of knick-knacks from all over Equestria, as he said. He has a snow globe from Canterlot, a Christmas tree bulb from Fillydelphia, and all other sorts of stuff. It's in this moment when he lets slip a revealing point of his past, when he mentions a certain someone in a slip of the tongue. This is when my "UP" alarms went off the charts, and I was hooked from that moment to the end of the episode. Pinkie keeps checking over his stack of things and accidentally sets his draft book on fire, burning what was a collection of memories. Cranky kicks her out of the house and tells her he will never, ever, ever, ever, ever be her friend. Pinkie Pie cries out.
"Four evers...that's like, forever."
I was sad for her, I giggled at the pun and I got angry at myself for finding it funny. It was a complicated emotion that went through my face, you know?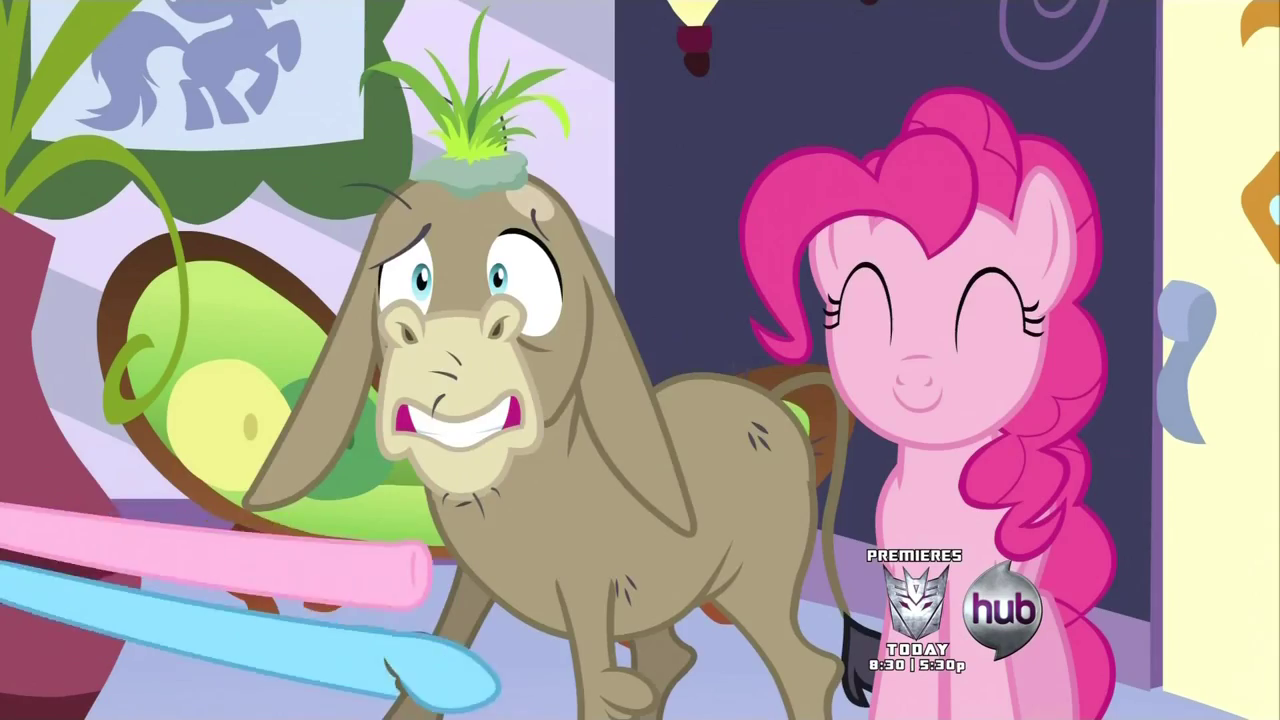 It was right between those two faces.
After the commercial break, which I grew to actually being able to completely ignore, we see Pinkie Pie talking to Twilight in her Library about how she shouldn't have actually tried and shove her happiness into Cranky's life. Pinkie Pie then decides to make one last visit to Cranky's house and make him accept her apologies. This goes as well as any of us could expect. Pinkie Pie chases Cranky around Ponyville in a chase scene that makes that one with Rainbow Dash in episode 5 of season 1 look tiny in comparison. Those things Pinkie Pie can do with her eyes are squeamish. She is definitely made out of cotton candy and molten sugar because, wow. Even with that chase Cranky still doesn't accept Pinkie's apologies. However Pinkie Pie is from Tank's School for Fillies and Colts and she doesn't give up. In a rare moment of brightness, she tries to deduce what Cranky is going through. Mere seconds later, she shows up to his door, and at first he refuses to open. Until he hears a voice that is definitely not Pinkie's. His eyes widen like saucers, as he removes the locks, opens the door, and stares at the female donkey before him.
"Matilda..." he says, quickly going inside and putting on his new wig.
The deal with Cranky is that he spent all those years travelling through Equestria looking for Matilda after she left the next day after the Grand Galloping Gala. He never found her, and so he gave up and moved to Ponyville, thinking he would never be able to see her again. It wasn't until Pinkie noticed the photos on the burnt draft book that she realised the female donkey of them was actually Matilda, a dear friend of hers who also has a very similar draft book. So if it hadn't been for Pinkie Pie finding that draft book, Cranky and Matilda would've never been together again. Matilda then kisses Cranky, which makes him smile of pure joy and thankfully accepts Pinkie as his new friend. Pinkie Pie then finds out that ponies can actually explode twice: First with a set of fireworks, and then of happiness. The episode ends with Pinkie delivering the moral, and Cranky and Matilda moving together to Cranky's house.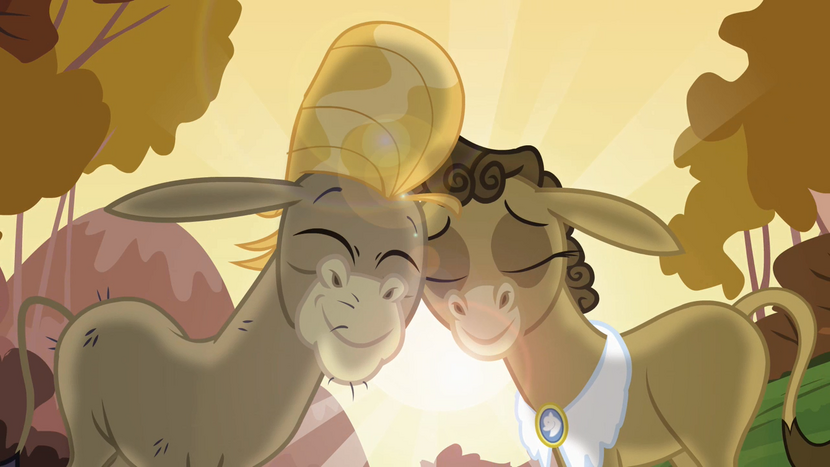 The toupee gets its own bedroom.
So that was "A Friend in Deed" and, let me tell you guys, it's amazing. I will go as far and call it the best episode written by Amy Keating Rogers. She wrote some great works for the series already (Bridle Gossip, Dog and Pony Show, Best Night Ever, Last Roundup), but this is definitely her best work yet. She managed to take this character in Cranky Doodle and turn him into a very interesting, very likable guy. As I said, I was hooked from the moment he started dropping snippets of back story, and he comes across as just a bitter old man who has given up in life, though that doesn't make him an ungrateful ass (pun intended). He is very appreciative of Pinkie when she gifts him the spa treatment and the wig, but he isn't pleased because that's not what makes him happy. For a new character to have a consistent and well paced arc in 22 minutes takes a lot of effort, especially when nothing feels out of place. That's what makes Amy's scripts so good. There's nothing you can add, but there's nothing you can take out either. They are perfect, all round, pristine, perfect. Having no room for other interpretations or "what ifs" is a perfect price I'm willing to pay.
There were also a lot of little things that I liked. That animated felt-world segment was amazing. To know that
Jayson Thiessen and his wife worked on it
in their spare time just because they wanted to have fun, shows what kind of team we have working on this series. It's adorable and heart warming. I loved to see Rainbow Dash hanging out with Twilight and reading books in her library. That little part says a lot about how she's developing as a character this season. I loved the cameos of each of the Mane Six. I loved seeing Roseluck again! She's still a really good pony, and so nice to Pinkie. Zecora's cameo was pretty neat. Speaking of cameos, Derpy inside a snow globe is just crazy. The Baby Cakes were adorable as well. That song that I can't listen to enough times, my God that was awesome. This is definitely not your average MLP:FiM episode, this goes above average. We've been having quite a long run of episodes where there were a few hit and miss moments; episodes where I had a tight feel of dread gripping my gut while I watched certain moments. However, there was none of that with this episode. It's simple, it's sweet, and it's heart warming. It's a feel good episode, that will definitely make you smile. And in the end, isn't that the most important thing about being part of this fandom?
Besides playing "Where's Waldo?" with Derpy in every episode.
- Defining Moment(s):
The song at the beginning of the episode, the stop-motion felt world scene, or seeing Cranky Doodle meet again with Matilda. Pick one, two, or all of them. I am picking all of them.
- Moral:
Having friends is great, but sometimes some of these friends will want to be alone, and that's something we have to respect. Also, the best thing about friends is making them smile. I will also personally add that making friends will always help you find that thing you need the most in your life. You should let people in, especially if they have good intentions.