I guess sometimes people can be wrong about their assumptions. I originally thought that removing the little summary at the start of the review would speed things out and would make the reviewing process a lot less muddy for me, as if I was going to breeze through the writing like it was nobody's business. This will not always apply, though. So I have decided to do the little summaries before the real review starts on those episodes where they are necessary. Some episodes will need them, and others will not, and others I will be too wrapped up in details to even do them anyways. This week's episode is going to have one, and the intro will be about this because I have also made the wrong assumption that I was going to have enough subjects to talk about before starting the review. It's kind of disappointing to run out of topics, but it's even more disappointing to stop a tradition that's over three years old just because I get angry at the Brony Analysts, my commission queue, the pressure from the banks, or just sheer laziness.
What I mean to say is that we are not always right, not even with our own opinions, and this has been proved in many of my episode reviews thanks to the power of hind-sight. First impressions are very important, yes, but if we moved and acted just based on those the world would be a lot more different than it is right now. Perhaps that's why I slowed down in writing these reviews, now I give the episodes a time to shimmer and settle down, to see if they grow on me or if I end up finding them unwatchable. Where is this week's episode going to fall? Let's find out.
The episode starts with Applebloom awaiting a decision from her grown up, Applejack, Big Macintosh and Granny Smith. After what might be minutes of deliberation, that for Applebloom surely feels like hours, they take the most important decision of her life: Letting her stay home alone and do the chores on her own! Wow, really short-sighted goals in life you have, eh Applebloom? I think that's how your sister got her cutie mark.
Am Ah goin' to have to break your face Sugarcube?
Actually, to be fair to the show's tone, this part does make a lot of sense. Applebloom was brought up in this kind of farm environment, her whole life has been the farm, and that's because that's what they life off of. Without it, they are unemployed, and one of the most important food suppliers of Equestria will be gone. Taking her of that is like taking care of an entire business. It's like being in charge of everything in the house for an entire day. I know that feel, and I can easily relate, so for me Applebloom's enthusiasm is very charming and justified.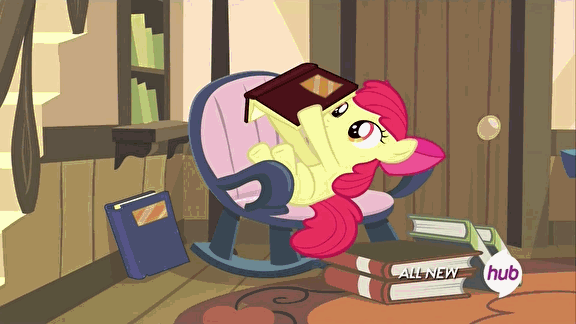 Oh! Hello there, didn't hear you come in. Hello, and welcome to Ask That Filly with the Bow.
One who's not very enthusiastic about this is Applejack, who is overly worried about the safety of her little sister. She's so worried that, despite preparing a list of chores and actually leaving her alone, she decides to abandon her apple pie delivery route and stay at home with Applebloom. She interrupts Applebloom in the middle of her chores and unintentionally causes a ruckus that Applejack thinks is caused for her leaving her little sister alone. Seeing that Applebloom can't take care of herself, Applejack decides to screw the apple pies and stays at home with her sister to take care of her.
Don't try to fool me, filly. I know where you live.
This degenerates in Applejack becoming a stalker that puts nets on apple trees to avoid the apples falling over her sister's head, baby wrapping the entire house, putting little wheels on the carts, and shoving a safety helmet on Applebloom's head ever five minutes (which I must say it is pretty funny and culminates with a very ingenious breaking of the rule of threes). Desperate, and thinking she's going to end up going back to her old filly cradle, Applebloom calls in for her friends and the three of them try to find out a way to make Applejack stop caring so much for Applebloom. She then notices the apple pie cart outside the window and decides to make Applejack's delivery by herself.
In order to make Applejack think that Applebloom is still at home Scootaloo decides to disguise herself and Sweetie Belle with some spare pink bows and get tucked in bed, and they proceed to explain this plan through singing!
Oh boy here we...
No! No time for singing!
…Or not, whatever this show goes for. This has to be the only time a clock-block has being genuinely ingenious and funny at the same time.
It seems at the beginning that things aren't really going to work out, and that Applejack is going to find out what's happening, but it actually doesn't fail. Applejack doesn't figure out that Applebloom is gone, and so time passes. After a good while Applejack ends up realizing that she didn't need to stay at home to keep her little sister safe, which prompts Scootaloo's meat-headed reaction and gives away their charade. To the horror of Applejack, it looks like her little sister is in way more danger than any of them could ever imagine.
She's in her way to the headquarters of the Republican Party.
Applejack then interrogates both fillies to make sure that at least Applebloom took the proper equipment to face the perilous journey through the route, and apparently this equipment includes some flame-proof boots, a lion's taming chair, a snake charming flute, and a hunk of ricotta. I have the feeling a certain Chekhov is building an armory somewhere. I wonder what he has planned for all of this. Applejack wastes no time and rushes after her sister. Meanwhile poor Applebloom has taken the wrong turn on the Everfree Forest and has literally stepped onto "
Story of the Blanks
". No, seriously, this is
Story of the Blanks
. The red and black tones, the creepy music, the musty atmosphere; all that's missing is the zombies and a pony with a magnifying glass cutie mark. Thankfully there are no zombies but something way worse: A talking apple-pie-eating Chimera! Despite Applebloom's efforts to run away she is only able to hide the apple pie cart into some bushes before the Chimera corners her, and right when everything seems to be over for the little filly, Applejack bursts into action wearing knee high fireproof boots and ready to kick some serious ass. She uses a snake charming flute to put the snake part of the Chimera to sleep, stuns the tiger part thanks to an automatic folding lion's taming chair, and distracts the goat part thanks to a hunk of ricotta. Somewhere in time Mr. Chekhov is having several orgasms right now.
Ah don't want to know about no old man having orgasms!
Despite being really mad at Applebloom, Applejack is very happy that she is still alive, though they had to sacrifice the apple pies in the process. But then Applebloom reveals the cart of apple pies is safe and sound, which makes Applejack realize that Applebloom can totally handle dangerous situations on herself (to a point). Finally delivering the pies to their destination, Applejack warns her little sister that she's not getting away without being punished for her reckless behavior, but that in the future she is not going to be constantly pestering her with her over-protective attitude. She's proven her that she can take care of herself, and that being constantly vigilant sometimes makes the situation even worse.
You could end up in Deliverance, you're dressed up for it and everything.
So that was "Somepony to Watch Over Me" and boy may I say I kind of did a 180º on my opinion of several aspects of this episode. There were a couple of things that nagged me the first time I watched it, and that still nag me now after watching it a second time, but others haven't bothered me all that much, and everything I liked I ended up liking it even more.
Are you implyin' you didn't like it the first time?
I am going to start with the one people seem to be having the biggest gripe on: Applejack's over-protective personality and behavior.
Really now? Are you gonna start talkin' shit about me?
I can see why some people might consider this to be kind of a pointless trait that's used just to serve as a narrative device and nothing more. We have seen Applejack letting Applebloom do really dangerous things in the past, like water-skiing, scuba-diving, or basically any other CMC related activity ever made in the show! So, yeah, it doesn't really make much sense to see Applejack acting like this in the big over-arching story of My Little Pony, but within this episode it does make a lot of sense. Applejack is leaving Applebloom completely alone, with no relatives to help her if something bad happens to her, and like I said before, she's leaving her in charge of the family business, so her concerns are as much based on family as they are based on their livelihood. It's a big situation that she has never considered to deal with.
I don't think I can deal with another Pony thread Simulator video.
Besides, one of the biggest cliches when it comes to this kind of narrative is that the character that's over-worried doesn't have the resources to face the peril that is going to come on the third act. It's always the one they are protecting that ends up saving them, which ends up proving them wrong. In this episode, Applejack is not proven wrong about her concerns. She says there is peril out there and indeed, there is! There is a fire swamp with a fucking chimera in it that eats pies and children! And she's armed to the teeth with chairs and brass balls to defeat this monster, and she does in a glorious fashion. This might be one of the few cases where the worried paranoid character is proven to be right in the end, and even with that she still has the humility to admit that her sister did a very good job until she was way too over her head.
Now on the Special Operations Team department, Applejack rivals Captain Kirrahe.
And yes, okay, I admit it, Applejack in skin-tight leather boots is pretty fucking awesome. It's radical, it's cool, she looks unbelievably hot wearing them, and I love how resourceful she is. That's the word here, resourceful, pragmatic, useful, capable, good! Applejack is a good character in this show, and in this episode's third act she gives a run for their money to the rest of the Mane six. This is my inner Applejack fanboy speaking right now, and I have no intention to stop him. Applejack is not a silly pony, she's not a background pony, she's not bad, she's not useless, she's none of those mean things: She's perfect.
Ah shucks, thank you Sugarcube. I'll be here all week!
Okay, okay, let me settle down on this. Bottom-line, I don't think Applejack was over-protective, at least not in the extents the fandom is perceiving this episode to be. She was worried, over-worried to a certain extent, but the situation kind of calls for it. When you live in a land where the Lord of Chaos walks down the street and terrible monsters live pretty much next to your house, you can't fault Applejack for being overly worried for her sister. If you want to see a case of over-protection taken to the extreme go watch "
The Village
".
It's not like this TV show hasn't done this same scenario previously.
But now, for the one thing that quite bothered me, and it bothered me after a second viewing, is the monster that Applebloom encounters in the fire swamp: The Chimera. This is one of those monsters that make me wonder why would anybody want to live in Equestria. It has such a build up, and such a presentation, that doesn't need to envy those of horror movie monsters like the Velociraptors in Jurassic Park, or the Medeiros Child in Rec. First you see a creeping shadow in the distance, then you see this shadow has a pair of yellow eyes…then another pair of yellow eyes…and then a third pair of eyes! And each pair of eyes seems to be coming from a different head! This is, probably, one of the most intimidating monsters ever put in this show, it rivals directly with the Cockatrice from season one, it's just so goddamn scary and it has such an awesome design!
This is what nightmares taste like.
And it complains too.
Yeah, as soon as this thing opens its mouth all the intimidation goes right out of the fucking window. This is one of those monsters that doesn't really need to speak, there is absolutely no point in it speaking. Some monsters in Equestria don't need to say a thing. The Mantycore didn't need to speak, nor did the Cockatrice, the Parasprites, hell! Not even Spike said a word when he turned into a giant rampaging dragon! Why does this thing need to talk!? And it
wouldn't
be so bad if it wasn't because it has arguments with itself. At one point of the fight it stops just so the heads can argue with each other, which made me have a flashback to "
Monty Python and The Holy Grail
". Yeah, it's kind of funny, but
aren't
I supposed to be pissing my pants with fear instead of laughter? My bladder is confused, what do I do? Laugh or be scared? It's kind of a letdown, and one that sadly can't be recovered. Great design and great presentation ruined by a completely needless decision that could have been fixed by simply giving more minutes to any of the other scenes.
I am tired of being Michael Palin, I want to be Graham Chapman!
But that's literally my only complaint. Besides that the episode is pretty much spotless.
For starters, Applebloom was brilliant the whole episode. She had moments where she was cute, and she was moments when she was hilarious, and she had moments where she was a complete bad-ass. The way she turned around to go get the cart was ballsy as hell, and the way she dealt with the Chimera before Applejack showed up was fantastic. She remained likable and kind of relatable. We all have suffered at one point in our lives that situation where our grown-ups think we are not going to make it on our own, so they become over-protective with us. Be it taking care of a house, or finding a new life, there will always be someone who thinks you are not going to make it. Seeing Applebloom (partially) proving Applejack wrong was an odd pleasure.
Ah still say it was Colonel Mustard, in the Library, with the Rope.
But let's not forget the rest of the Cutie Mark Crusaders. Their interactions with Applebloom were natural, very organic, and they flowed really well. I know it's kind of unnecessary to say this, being that this is the fourth season and by this point their friendship is pretty much unbreakable, but I like to mention all the things this show is making right, regardless of how pointless it is. It was awesome to see Scootaloo being a smart pony for once. She came up with the plan, she stopped Applebloom before breaking into a pointless song, and she gave advice to Sweetie Belle when trying to impersonate Applebloom. She did screw up and gave away their scheme, but that's good. They balanced out a lot of good with a flaw, proving that Scootaloo is not perfect and she can still make mistakes. Sadly they are written out of the episode almost immediately, but despite their arcs being kind of incomplete they left an impact good enough to be memorable. Scootaloo's line about Applebloom's sass is not going to be forgotten anytime soon.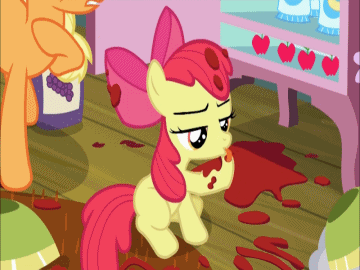 So sassy.
As for the other characters there
isn't
really much point to talk about. Granny Smith and Big Mac are gone in the first five minutes, and then we spend the rest of the episode with Applejack and Applebloom, and here's the mark of good writing. This episode doesn't need any other characters. All those that we have are more than enough, they are very well written and they can carry the weight of the episode without making the rhythm or the tone suffer for it.
You want sufferin'? Guess where Ah'm goin' to shove this chair into.
If there is one aspect I did enjoy in this episode was how the build up for the final fight scene was carried. Halfway through the episode it feels like everything is going to culminate with the big confrontation in the fire swamp, and for a kids show that scene is really intense. It takes place in a darkly lit swamp, with puddles of mud that burst into flames, and with a little filly being attacked by a freaky monster (despite the talking part). The first part of the scene is really tense, and it kept me guessing where it would end up going next. It's unpredictable and really satisfying. And when Applejack shows up it just becomes awesome. She puts all her skills into action, she proves to be an absolute boss, and puts that Chimera in her place, all really well choreographed and edited in a very thrilling fashion. This season keeps rising the bar when it comes to action, and this episode pretty much crowns it. I can't even imagine where are we going to go next, because something tells me it's about to get even better.
But it's going to take a miracle to top Applejack and her ass-kicking skills.
It does, however, take a while for the episode to get there. I didn't really mind because the scenes before it are really good as well. They are very funny, the comedy stays in its usually charming tone, and there are a lot of genuinely good moments, like when it looks like they are about to start singing and then Scootaloo stops them before they go any further (she does have a story about abhorring singing). I didn't mind them, but if you are in just for the action then I can understand why these scenes might seem slow or drag on for maybe longer than they are supposed to. However they are there for a reason, and that's to help the episode have a good pacing. By the time we reach the climax there has been enough build up to make the resolution feel very natural and even justifiable. It's a perfect case of calm before the storm, which in many regards it's one of my favorite types of narratives when it comes to fiction, and many of my favorite directors do this, like Steven Spielberg or James Cameron.
They never had a pony with leather boots doing a dodge on a Chimera, though.
So, overall, I really enjoyed this episode. I think I enjoyed it more than what I'm willing to admit. It's not my favorite episode of the season, and as the debut of a new writer it could have been a lot worse. Does it have flaws? Yeah, a couple, but they don't affect its quality at all. This is a very solid, very fun, very entertaining, very well acted, really well paced, and very memorable episode of a so far incredibly satisfying and rewarding season. I am genuinely surprised, and I might be doing it the wrong way by going into each of these episodes wanting to like them, but something tells me this might end up being my favorite season of them all.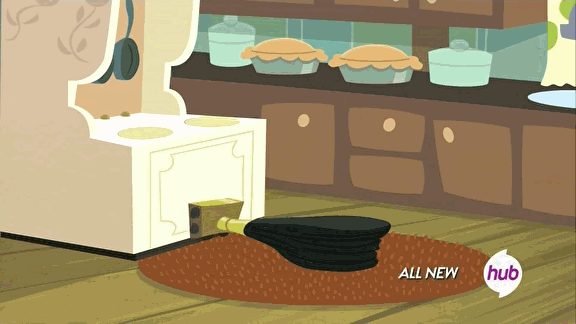 Let's blow up the flames of the internet drama.
At this point Season 1 already had a couple of blunders, and Season 2 was already suffering a bit of the "Halfway Point Curse", and to me neither of these things have happened to Season 4. Am I being overly positive? Quite possible. Maybe that's what we all need at this point: A little bit of positivity to compensate for the hatred and vitriol of others.
- Defining Moment:
The fight scene in the fire swamp between the Chimera and Applebloom, and Applejack's arrival to kick its ass in the most explosive display of absolute badassery.
- Guilty Pleasure Moment:
Applejack in skin-tight knee-high black leather boots. Sometimes this show just makes it too easy for some of us.
- Moral:
Being overly protective of someone (or something) can end up carrying terrible consequences that will affect everybody involved.