I AM BACK...more or less.
And holyshit I forgot how much the formatting system of blogger sucks. I think one of the reasons why I stopped using blogger and making reviews here was that, once you stop using its formatting system and coding, you realize how easy other websites make it for you to write things down and edit posts. This might be a good blog to customize and everything, but the way this is set up is awful.
Anyways, I am cheating here though not really, because since I stopped writing reviews here I've managed to keep a good rhythm of reviews on The MBS Show's YouTube channel with my friends Normand Sanzo and Silver Quill. So I've decided to link those videos over here and save myself a world of trouble having to re-write my thoughts on the episodes. You can find all the remaining reviews right after the break.
Okay, so here's how this is going to work.
I will put the title of the episode first, then a screen of it, then the video, and finally I'll add a small text with the best thing about it, and the worst thing about it, for those of you who want to go straight for the opinion of it without listening to the video (quite honestly, this is your loss so you should feel bad for doing so).
Episode 18. Maud Pie.
In short: This is one of the most heart warming episodes of the entire series, capable to create uncontrollable laughter and raw heartstrings-tugging emotion. Truly one of the best examples of family and friends clashing with a great lesson that both can learn.
Best Part: Maud Pie, perfect character from the first to the last word.
Worst Part: Pinkie Pie's antics can get a bit too grating.
EPISODE 19: For Whom the Sweetie Belle Toils.
In short: An all round perfect episode that hits all of my favorites. Best Pony, Best Princess, Best Cutie Mark Crusader, with a surprisingly relatable conflict and writing good enough to flesh out characters we didn't even know could have more than two dimensions. Definitely one of the best episodes, not just of the Season, but of the entire series.
Best Part: The dark future envisioned in Sweetie Belle's nightmare.
Worst Part: It ends.
EPISODE 20: Leap of Faith.
In short: From one of the strongest to the weakest, this episode is like a cat distracted by too many good premises, which then never catches or takes any further. It's a waste for the Flim Flam brothers, for the Keys of Harmony arc, and for the character of Granny Smith. Good thing that Applejack comes out unscathed.
Best Part: Applejack (and her inner turmoil).
Worst Part: Everything else.
EPISODE 21: Testing, Testing, 1, 2, 3.
In Short: Like "Bart gets an F" but with ponies in it and no cynicism, the creativity and humor combine flawlessly with the heavily emotional conflict and fear Rainbow Dash's character goes through. The themes resonate heavily with me, the humor is perfectly timed, and the resolution is as satisfying as it is rewarding.
Best Part: The flight of Rainbow Dash over a bunch of mnemotechnic devices.
Worst Part: At times, it goes too deep into the 80's hole.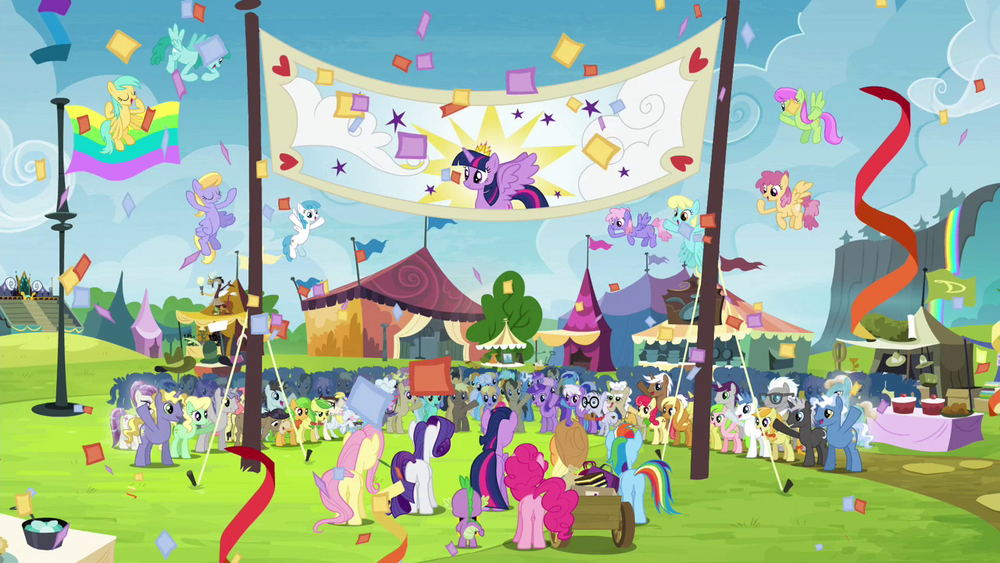 In Short: Part Friendship is Magic, part Legend of Zelda sidequest, and all around entertaining episode that takes a really stupid-looking concept and milks the hell out of it. It's as rich in detail as it is in enjoyment, this is one of those episodes that I would be hating but that I find myself enjoying the more times I watch it.
Best Part: The richness of the setting, its manic attention to detail.
Worst Part: The parts are better than the sum.
EPISODE 23: Inspiration Manifestation.
In Short: This episode very well complements "Secret of my Excess" as it inverts the roles and gives us one of the best performances from Rarity in the entire show. If you are the type who loves to see their favorite characters suffer, look no further because what Rarity goes through is good enough to satisfy even the pickiest sadist.
Best Part: The (very clever) nod to "Saved by the Bell".
Worst Part: Realizing that the show writers have no idea of what to do with Spike.
EPISODE 24: Equestria Games.
In Short: A very good conclusion to the Equestria Games pseudo-arc, but not in the way any of us could have predicted. The strength of this episode lies in its sincerity, it's comedy, and Spike's character. What the previous episode didn't do, this one achieves it with flying colors.
Best Part: Spike singing the anthem to Cloudsdayle.
Worst Part: The disgusting reaction from the snobbiest members of the Analyst community.
EPISODES 25 AND 26: TWILIGHT'S KINGDOM.
In Short: One of the best two parters to date, and definitely the best season finale this show has ever had. It's heart-pounding narrative pacing is only matched by its demolishing emotional potency. It's the finale we deserve and need, the one that brings the past to confront it to the present and prepare for the future.
Best Part: Its stratospheric pulse (and Discord's character arc).
Worst Part: The hideous Rainbow Power designs.