I think I had about two hundred five thousand seventy one different ways to start this review, but I think I will go with this one. So there I was at the start of Season 2, writing my review of episode 3 half way through the week, before Seth decided to make episode follow-ups, when all of a sudden I go: "Huh, I know what I will do! I will make weekly episode reviews that I will then post them in the comments! This will not make me regret my decision at all!". Six months later, AKA, right now, I need a break from so much pony. I know some of you just gasped. The one-week-without-episode break wasn't enough. I need a whole summer without me looking at the weekend and going "Oh dear God, what am I going to write about now?" It's funny because I get no revenue from this and nobody forces me to do it (if we don't count that murderous-looking six feet tall rabbit in the corner of my ceiling). I do it because I want to. I like sharing my opinion without hammering it into people's minds like other Internet critics. It's fun, just like this show. Even if this week it was rather different. Let's see why.
You find yourself in a darkly lit room. There is no sound but the beating of your heart. You are likely going to be approached by a TL; DR. In fact, a TL; DR comes at you. If you decide to read it, you might as well skip to the bottom of the page. This TL; DR tells you that, even though this episode is really good in Friendship is Magic standards, it's not the best of the season. However, this TL; DR offers you to keep reading the review to find out why.
So this episode about dragons, with the word "dragon" in the title and focused around the most popular dragon character in the show starts with Applejack and Pinkie Pie digging a trench, and Rainbow Dash and Twilight trying to pull Fluttershy out of her house. Yeah, I too was thinking where are the damn dragons. Kind of a weird start up since Spike is nowhere to be seen until minute five, but it does set up the whole event. Apparently there is something called "The Big Dragon Migration" going on and thousands of dragons traverse through Equestria to somewhere else that is never explained or described. The Mane Six dig up a trench to observe this migration from a safe position, but fail to convince Fluttershy into coming along with them. We see that she is still terrified of dragons (she didn't really dealt with that phobia as we saw in "
Secret of my Excess
"), and we also see that some of that assertive Fluttershy is left in her. I was happy to see she was still able to put her hoof down. After trampling over Rainbow Dash like a bulldozer she jumps out of the back window and runs away. Some complain about why doesn't she fly away instead of running. First, there is a swarm of dragons incoming so flying might not be the most intelligent choice; and second, this is Fluttershy we are talking about.
After the commercial break we see that the Mane Six minus Fluttershy are witnessing the migration and I have to admit there are some really cool designs on those dragons just by the shades alone. The reactions of the characters remain fairly okay. Rainbow Dash complains that they are not badass enough only to get a flamethrower to the face, followed by a snarky remark by Applejack. Rarity acts like the diva she is. Twilight observes them in silence. And Pinkie Pie seems genuinely terrified by them. It's then that Spike shows up wearing a pink apron and offering cupcakes as he boasts about how fierce dragons are. This of course causes the Mane six to kind of poke fun at him, something he doesn't take too well as it makes him question many things. Who is he? Where does he come from? What is he going to be? These are questions that are bigger than his tiny dragon baby form. I had no idea pink aprons could provoke so many deep enquiries. They keep Spike awake at night and, by default, they also keep Twilight awake. Spike gets out of bed moping about how every time he looks into the mirror he feels like looking at a complete stranger, followed by the most clever use of symbolism I've seen in a while.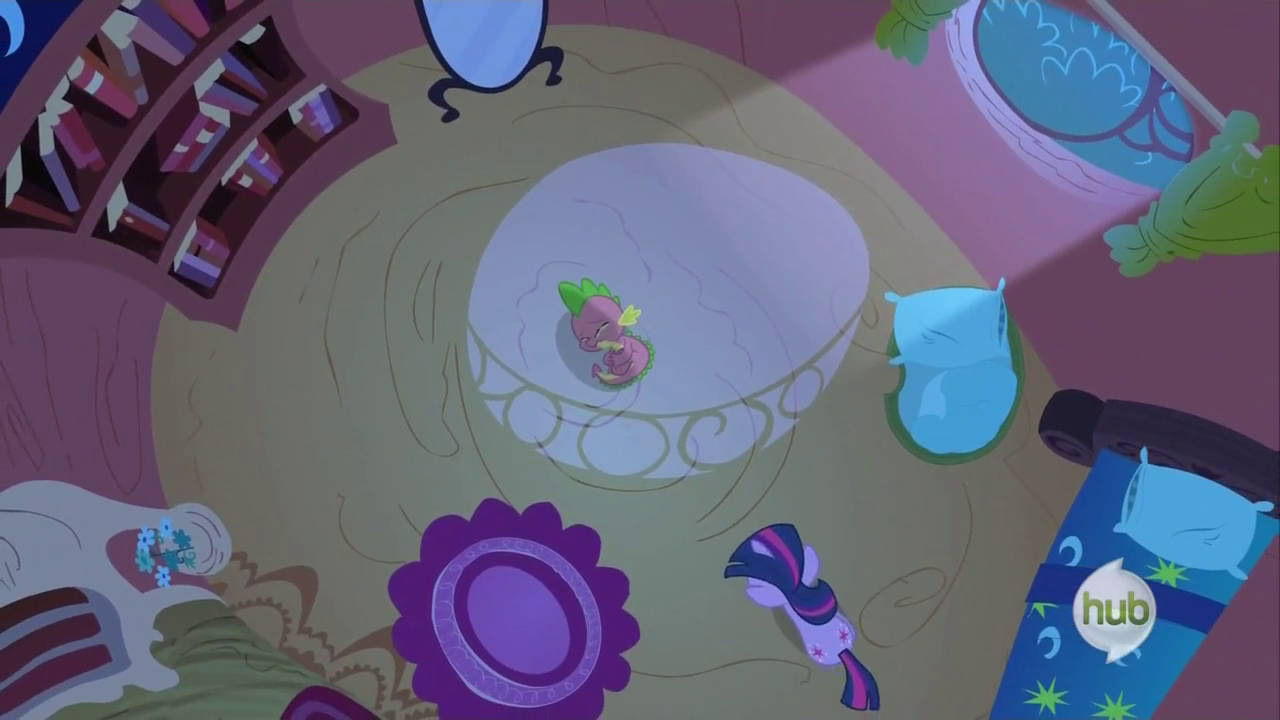 When you see it...
So Twilight and Spike decide to search for information about dragons in the library, and if you remember the events on "
Secret of my Excess
" you will be familiar with ponies' unfamiliarity with dragons. In fact, they know nothing at all! Not a single book in Twilight's library speaks about dragons or gives any insight about them, and you know how big her library is! To have such a level of misinformation about one of the most dangerous species in the World seems quite careless. I mean come on, I'm pretty sure Celestia had to send teams of researchers to find clues and reasons behind why dragons act like they act. It's impossible there is nothing about them. But then again Spike's questions will not be answered with the help of a book. This is something, like I said, bigger than himself. So he decides to leave Ponyville and join the migration, to find his origins. While both Rainbow Dash and Rarity try to stop him Twilight allows him to go on his endeavour. At this point I don't know if Twilight is being tolerant with Spike's decisions or downright irresponsible. It feels like the Pokémon universe, doesn't it? You are ten years old now, go ahead and risk your life battling giant monsters. However they don't actually let him go alone as Rarity, Rainbow Dash and Twilight dress up in a dragon costume to follow him on his quest. It feels rather cute to have him call it a quest, but it really is a quest! It's a quest for identity, adventure, answers, and many other words that start with vocals. We are then treated with a wonderful montage of Spike following the migration put to some pretty epic music. You will believe this show can make drinking tea from a china pot look badass if you put some kickass Skyrim-esche tunes in the background. After roughly one week of travel (which in show standards is like one minute) Spike arrives to where the dragons are nesting which I'm pretty sure is the part of the show that fans of
Metalocalypse
will find interesting.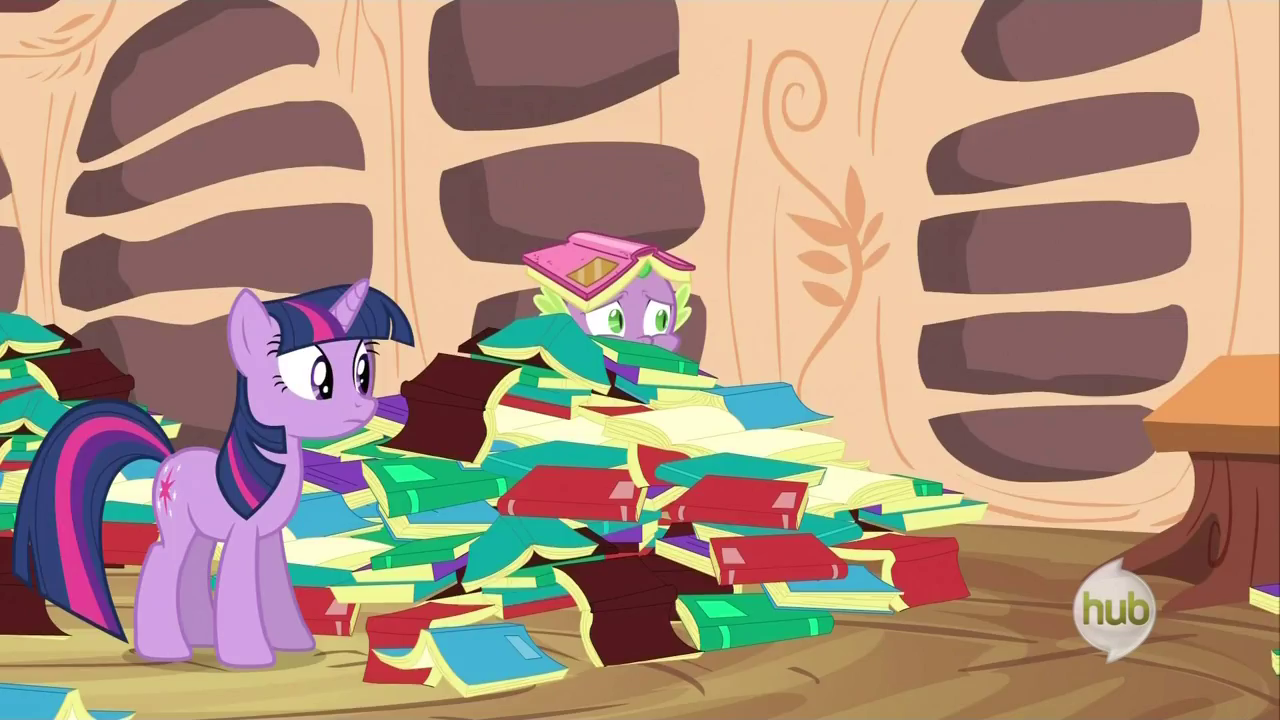 Your book fortress is brütal.
I remember the broadcaster of the stream I was on saying at one point "
This episode is so metal!
". And it is! Well, it's as metal as having
Metallica
play a pre-school song with toy instruments, but I'm taking it! Here we can clearly see the production team having fun with what they are given, as the show makes you forget for fifteen minutes what's a pony. There are mountains of fire that are red and black with flames. The sky is vermilion and orange with fumes. There are dragons on the cliffs and landing on the distance getting inside other mountains and craters. It's like an album cover coming to life if it fell into that magic paint stuff from "
The Pagemaster
", it is really cool. Spike sees there are many adult dragons but then notices a group of teenagers and so he decides to join them (mostly because they are closer to his age). He doesn't notice that he's been followed by the most obvious dragon costume in the world, as Twilight and co. are monitoring him. Spike doesn't star too well with the group of teen dragons as they mock him and poke fun at him, setting him up for some tests to make him prove that he is not a pony but a real dragon. The belching competition goes as well as it can go for a dragon that burps letters from a Princess Pony (in a moment that shows that dragons don't care for what Princess Celestia has to say). The tail wrestling ends up with results that make me think of "
Kung-Fu Hustle
". The King of the Hoard competition (which to me sounds like a multiplayer mode in
Halo
for some reason) doesn't go well either. But then comes Jumping into a Lava Pool, which Spike proceeds to belly flop and so gains the respect from the other dragons, who gleefully call him a tough guy and accept him. Yeah, because that will always get you accepted with teenagers (especially if they had been jerks at you for the past five minutes). Spike, happy to see that he fits in with the group, decides to stay with them forever, which terrifies the three ponies in the dragon costume.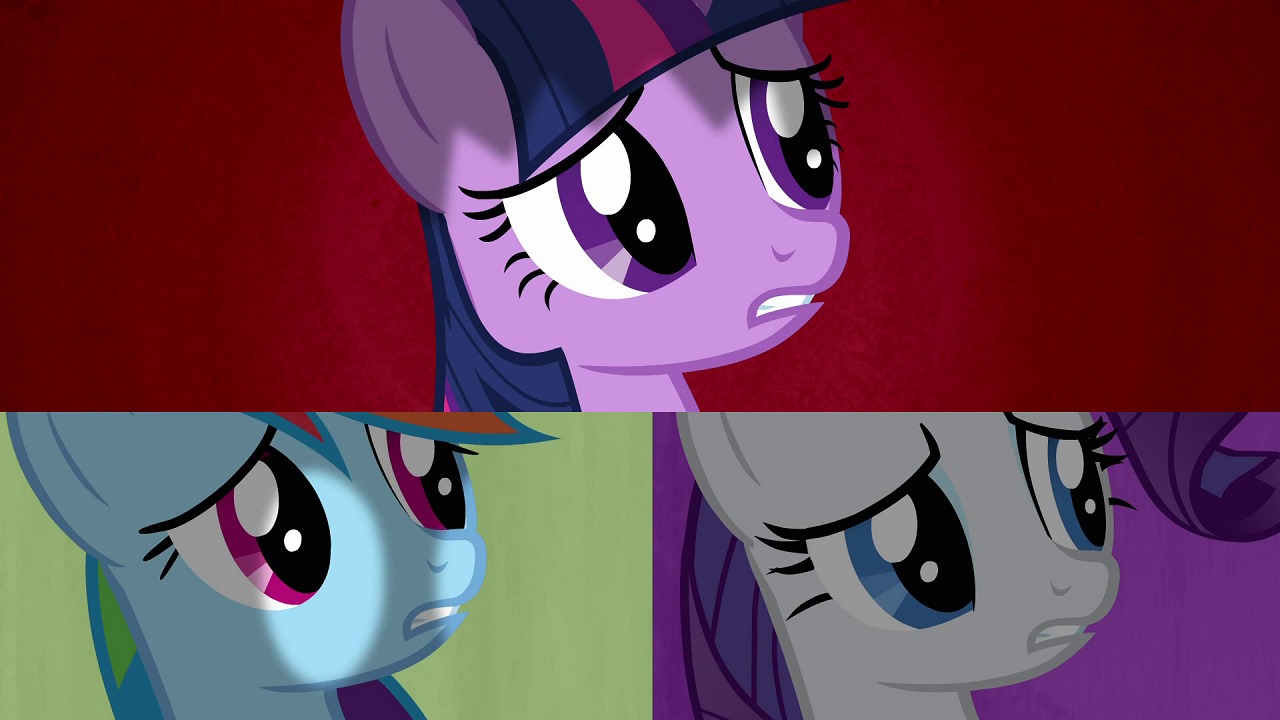 That and the fact that they also forgot the coffee thermos.
However this does lead to Spike realising the mistake he has made. The next task that him and his group of new friends get into consists in going to a Phoenix nest and smash it. While he does have reservations on the matter, he ends up catering in and so lures the parents out of the nest with a well placed rock to the head. To the disappointment of the dragons the Phoenix eggs have already hatched, so they take the most logical step: try and catch the chicks (these guys are lacking a brain or two, right?). But again they get foiled as the chicks start chirping for their parents which come to the rescue and blind the dragons temporarily with a blast of light, making them crash into a tree that then collapses. Spike returns to the destroyed nest to find an egg that has been left behind. The dragons catch up to him and tell him to smash it. He tearfully refuses, saying that he was once a defenceless egg and he won't let them hurt it. The dragons, angry, try to attack Spike, but then Twilight and Co show up to bravely and courageously run away in terror. Yes, seriously, they show up, adopt a fighting stance, shout and growl at the dragons, and then they turn around and run away. What an anti-climax! I really don't know what I was expecting. Maybe I was expecting the whole thing to turn into an RPG screen and having Twilight summon Celestia with a scroll. However, I do appreciate that they portray this kind of behaviour in the show. Anyone anywhere will always tell you that the best way to act in a fight is to turn around and run away. When you know you are going to lose or get badly hurt (and let's be honest, dragons have teeth, claws, and breath fire while ponies are made out of marshmallows) the last thing you want to do is try and one-up it. So if anything this is teaching little kids that if someone tries to lure you into a fight the best thing to do is run away. It really is! There is no shame in doing it if you can end up unscathed. But again, I wasn't really focusing on that, I was actually getting really worried for Twilight! Some people brought up why her teleportation spell failed at first, and I have an explanation for it. She spent the entire episode using it. I think this is one of the episodes I've seen her use it the most, no wonder it failed at first. She was running on her last drops of magic energy. That's why she was crawling, shaking and having problems to stand up after her last teleporting, she was exhausted! For a moment I forgot about Spike, his quest and the phoenix egg! You could throw that out the window, all I wanted to know was if Twilight was okay!
Of course she is.
The episode ends with Spike delivering what is probably one of the best lessons in the entire run of the show, and without a doubt the best lesson given by Merriwether Williams. What you are doesn't make who you are. Really simple, really deep. It's for things like this that this show is above other shows when they can deliver such a good moral and have no problems saying it directly to the audience. Spike sends the letter to Celestia, the Phoenix egg cracks to reveal that
Woodstock from Snoopy
was inside the whole time, and the episode ends with a happy dragon.
So that was "Dragon Quest". What do I think of it? Well, I have mixed feelings towards it.
I will start with the things I didn't like first so you guys get your sticks and stones ready. The first thing I didn't like was the group of teenage dragons. I have to admit, the dragons in this group look pretty cool. Their attitudes and personalities though not so much. It kind of ruins it because I really loved how much work was put into making each dragon look distinct and unique, with different shapes, sizes, colours, animation, flames, and even expressions. But when they talk, I have to be honest, they all sounded exactly the same to me. They were all rude, obnoxious, angry, jerky and overall insufferable, to the point that I wanted to mute the episode and just watch them go. They have so little personality they don't even have names! How bad is that!? There is a moment where one of the dragons seems to warm up to Spike and I was like "Oh hey, he actually has depth, he doesn't have the charisma of a piece of paper" but then he returns to be a jerk and all I wanted to do was to
call Matthew McConaughey to shove an explosive arrow down his throat
. I wouldn't call this missed opportunity, because the designs are still pretty cool, but I will call it misleading. This shouldn't be a problem for the writer. I know she can write awesome characters (look at Iron Will, look at Commander Hurricane or Chancellor Pudding Head). So I really don't know what went wrong in that process. Another thing I didn't like was how little we are told of the dragons. Yeah, kind of ironic when you think about it but this episode only tells us what we already know about dragons. They hoard gems to eat them, they are rude, they are posessive, and they don't like ponies. I guess they also like to stomp Phoenix's nests, but I won't take it as only imbecile teenagers seem to do it. There was a lot of potential to know about dragon society, but I guess we will have to allow the fanon to cover the blank spaces, and that kind of sucks if you ask me.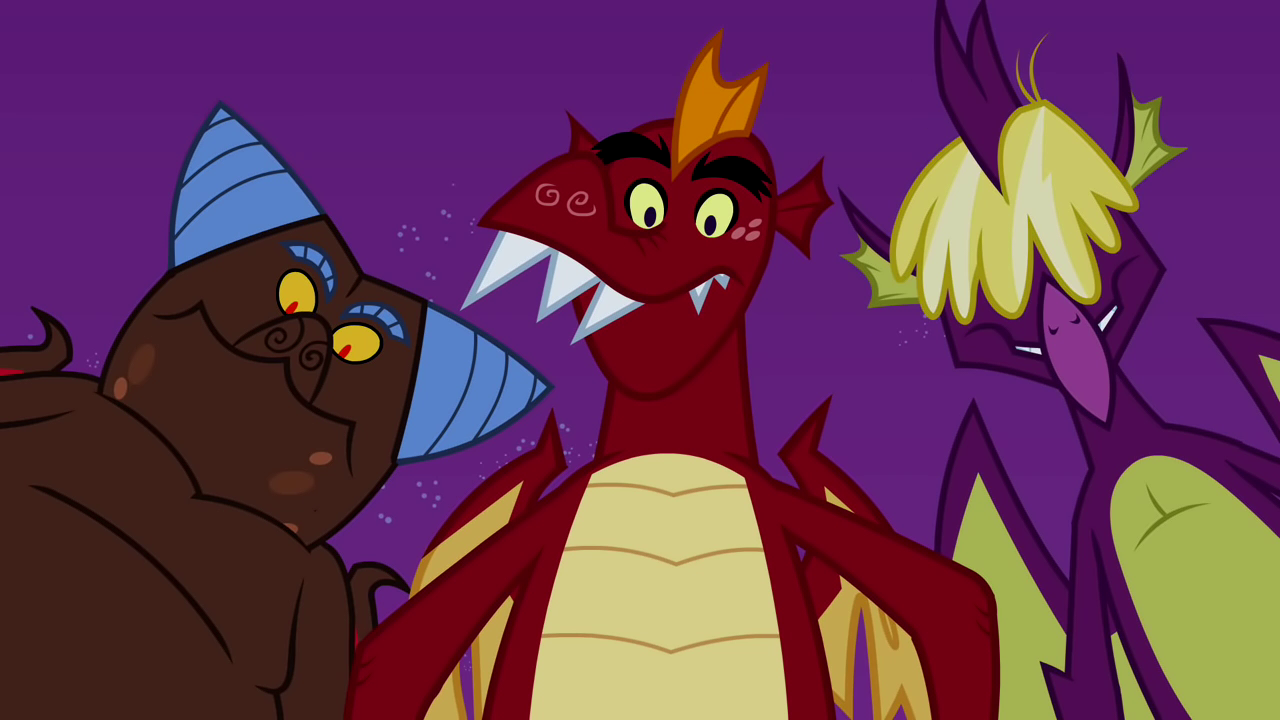 I really don't know what will be worse. The fanon of these three, or the Rule 34.
It may sound like I'm being grumpy but that's the stuff I didn't like.
On the other hand, there are many things that I did like. Okay I will start with the first thing I liked of this episode, just so I can shut the doubts of the people who follows my reviews. Spike. I'm not a fan, but I did like Spike in this episode, and the more I think about it the more I realise I really liked him here. Spike has always walked the fine line between jerk and nice (he is a jerk to Twilight but nice to Rarity) but this is the first time I see him being humble and taking a stance for himself. I really liked to see him groan for his unintentional girliness with the pink apron, or when he stops to drink tea during his quest. It was enjoyable to see him climb the pile of gems only to get knocked down from it seconds later, and if that wasn't director Jayson Thiessen taking a metaphor too literally then I don't know what could it be. I felt really happy for him when he finally got accepted and I connected with him when he decided to keep the egg and protect it. Some people wondered why they didn't return the egg to the parents. It happens in nature that eggs and offspring often get lost and the parents don't care for them. Who knows, maybe that's what happened to Spike. So trust me, Woodstock Phoenix is safe with him. Speaking of Woodstock, the music for this episode was amazing. I don't usually notice it, but you can perfectly make an album out of all the background music this episode has and I promise people will set up raves just so we can rock at it. It was really good. It was great to see Rainbow Dash getting called out early on: "I've done many nutty things." - "We know." I really liked Rarity's random outbursts of "Bear Mom" with Spike, how she launches to defend him or how she worries when he leaves. That poor deformed dragon, Crackle I think is the name of it, was okay yet I can't fathom the fascination people have with it. It was a very funny joke that kind of got ruined because they put it in the preview clip. It would've been funnier if they had saved it for the audience to see with the complete episode. But then again, what other part to show?
Besides the glaring continuity error?
And finally the question quite many have asked themselves. A question that I asked myself after the episode ended. Is this a good Spike episode? Well, you guys who have been following me for a while know I am not the biggest fan of Spike (I don't hate him, but I don't love him either, he's just there), so take my opinion as an objective opinion. As an episode about Spike this is clearly the best the series has had. "Owl's well that ends well" portrayed Spike as an antagonist that runs away from home and is saved only because he gets Twilight sick with worry. "Secret of my Excess" is a great episode, but I like it because it revolves around Spike and Rarity, and the pearly white unicorn takes all the spotlight of my attention. This episode focuses entirely on Spike and I can feel the effort in the writing department to emphasise this. So, I think this should be the best episode for those who are fans of Twilight's Number 1 Assistant. However, and this is a big however, this might not be the best episode to start liking Spike entirely. I know I said he's given a lesson in humility and that this is his best episode yet, but we are not given much input on his personality. His atittude through the majority of the episode feels like a pose to get into a place he doesn't belong to. It's not until the last five minutes when he starts acting like how he acts. So, even though fans of Spike will love this episode, non fans of Spike will feel left out, and that's exactly how I feel. By the time the episode ended I was like: "Did something happened? What did I miss?". If you allow me to repeat myself, that doesn't make the episode bad, far from it, but it makes it misleading. I was focusing more on Twilight, Rarity and Rainbow Dash, but that's because they are my favourites and I can't help it. But in the end, it's a cartoon for little kids and this episode delivered in every level for them. It was entertaining, it could have been funnier, and it had some pretty cool looking dragons. I have this dreadful feeling though that Spike episodes are not going to get better than this. Unless the next season reveals who his parents are, and Twilight and him share a very emotional scene with more crying than the ending of Toy Story 3. But that's not likely either.
Besides, this cartoon has already surpased Pixar and 50% of the world's soap operas in crying scenes, Jesus...
- Defining Moment:
Spike's quest and his arrival to the dragon grounds, right until he meets with the teenage dragons. From then in it kind of goes downhill.
- Moral:
Is not what you are what defines who you are. There should be posters and PSA's with this message in every TV Channel and in every Bus stop in the World. There's not enough of it.