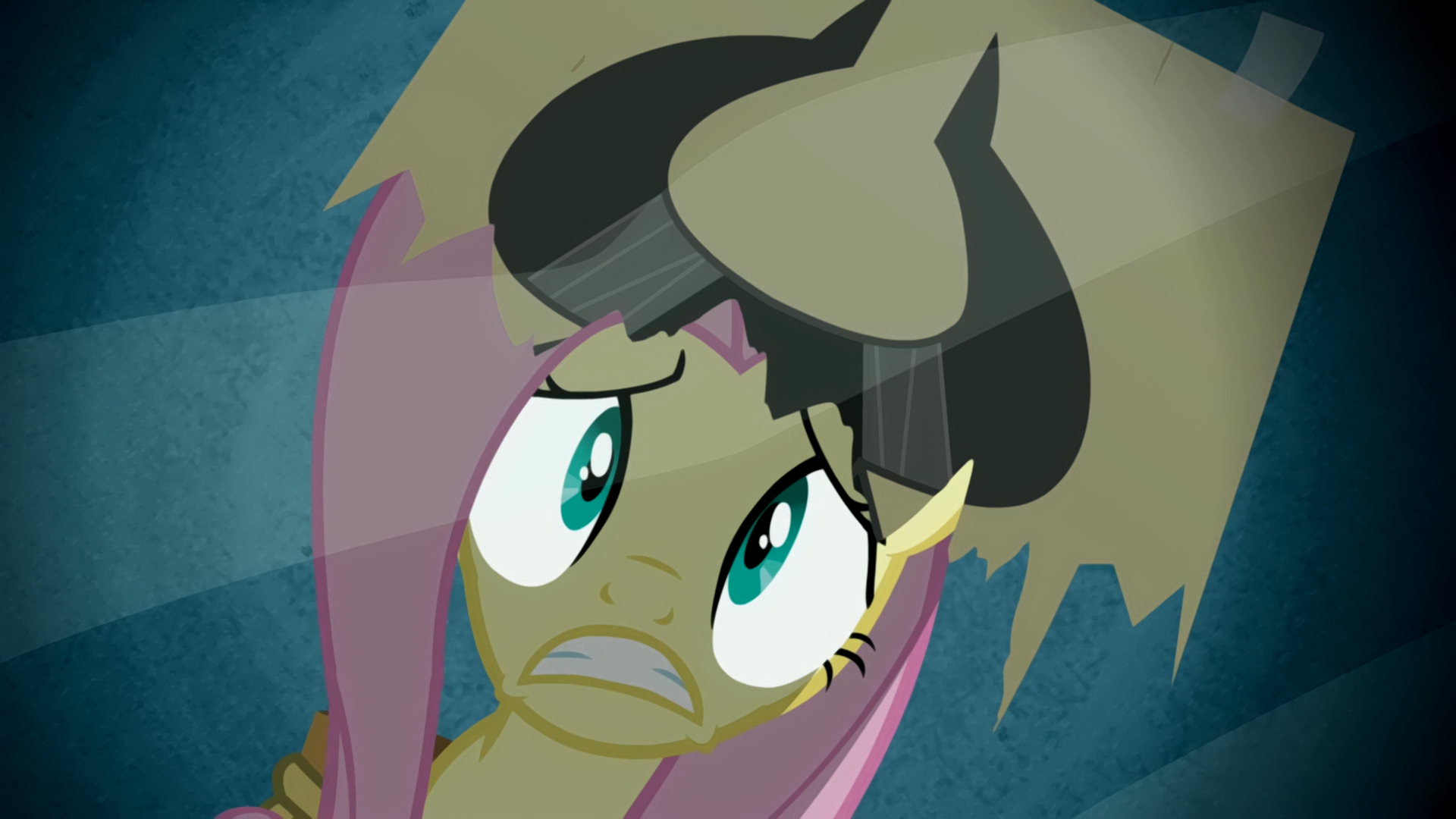 I am having a lot of trouble writing down the intro for this review. Is not that I have no clear ideas about this episode already (I have them, lots of them), it's more like I always start these reviews with a seemingly unrelated subject and then I segue into the review of the episode in the most seamless way possible. Sometimes it works great, other times not so much. I was making sure I wouldn't make any reference to what the fandom has been through as of late, since that whole business is pretty much wearing off and we are leaving it behind us. But in the end all this fandom is about is the exact same thing: Colourful happy ponies being happy and cute. Except for this episode which turned out quite verbally assaulting. Huh, look at that, an intro popped up over my review. Lets get down to it and do it.
I pity those who don't read my TL; DR's and then go below them to find massive walls of text all over the place and then complain about it! If you know what you're doing, you should always check the TL;DR that I put here in case you don't want to read the whole review! Let's put it simple. Is the episode good in Friendship is Magic standards? My non-existing biceps are outraged that you dare asking such question when the answer is YES! Is this the best episode of the season? Of course not, but that's not my fault at all! Keep reading if you really want to find out why!
Iron Will mode OFF.
So the episode starts in the house of our protagonist for the next twenty two minutes as we see her setting up the food time for her critters. I never realised she has that many animals living with her, so she either adopted many more or Studio B and DHX media put more budget into the "Fluttershy Critter Hoard" department. Sadly for her she is not that much of an authority figure to them. They steal the food from her and she just shrugs it off because she's Fluttershy I guess. And then we get to the part of the episode that get many people out there which is Angel's abusive boyfriend behaviour. Well okay, he's not her boyfriend and he's a cartoon character so everything he does is justified by the rule of funny, but I can't disagree with those people complaining. He acts like a complete douche. He throws Fluttershy's food aside and then slaps her demanding a very specific dish, which forces Fluttershy to go out shopping into town. All of a sudden I feel like I'm at home. I'm the Fluttershy of my house in more way than one, trust me.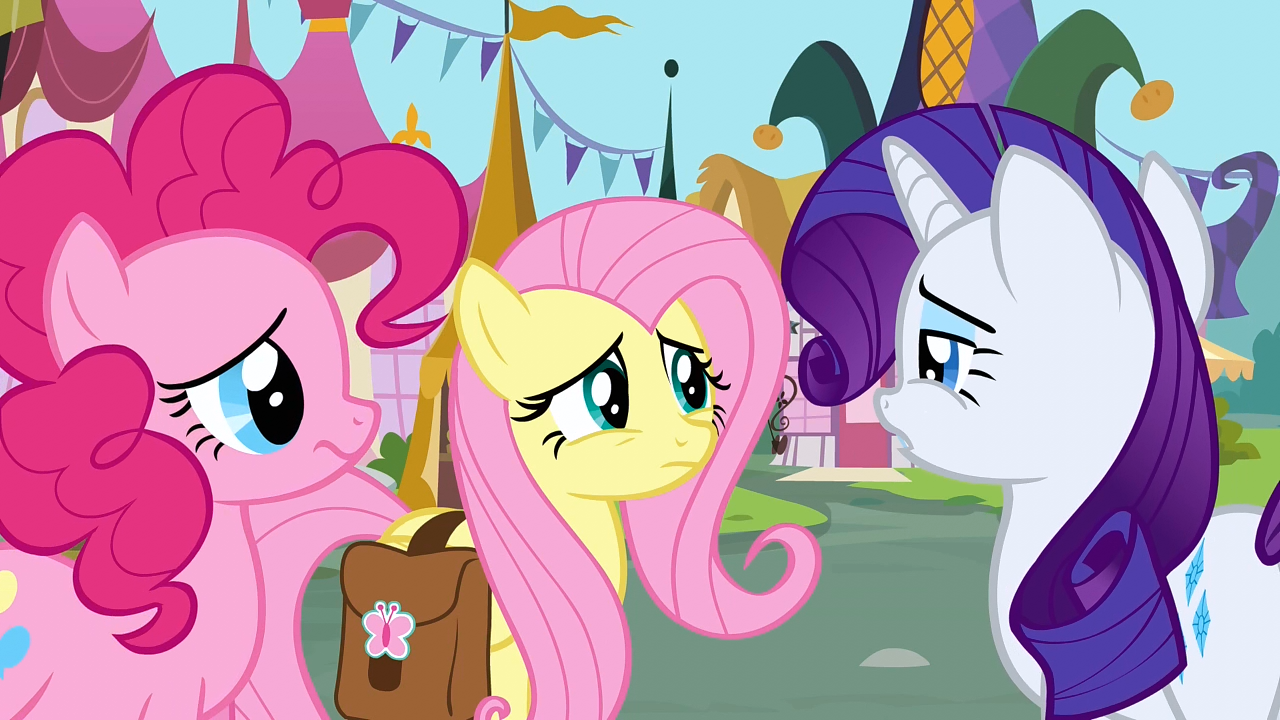 Minus the möe looks. And the pink hair. And the wings-Maybe I'm not like her at all.
So Fluttershy goes to Ponyville to get some food for Angel's dish, but sadly everypony acts like a bully towards her. They sneak in on the line, try to charge her extra for what's she's going to buy and basically acting nothing like what we've seen them act in previous episodes. I saw some other people complaining about it but for me it makes perfect sense. We saw the background ponies acting with the mane six in different ways. For example, everypony in Ponyville is Pinkie Pie's friend because she is nice to them; or everypony in Ponyville demands extra from the Apple Family because they are the sole providers of cider in the town. So with such a pushover (there's no other way to put Flutter-fans, deal with it) like she is, it's no surprise they treat Fluttershy like you would treat George McFly. Rarity and Pinkie Pie show up (together, for the fourth time in this season (are you trying to get some sort of message out there guys or what=)) and they try to teach Fluttershy how to be more assertive with seductive and tricky ways. Rarity mellows her way with Professor Frink pony to get back Fluttershy's asparagus, and Pinkie Pie tricks the tomato seller with the old Looney Tunes "You want it / I don't / You don't want it /I do!" trick. Of course when Fluttershy tries these out she fails at it, which causes her to not finish Angel's dish the way he wants, which causes it to fly out the window. Trying to get the salad bowl back Fluttershy stumbles upon the next plot point: A flier announcing the arrival of a certain Iron Will, a self-help guru who's coming to Ponyville.
Coming to Ponyville is turning...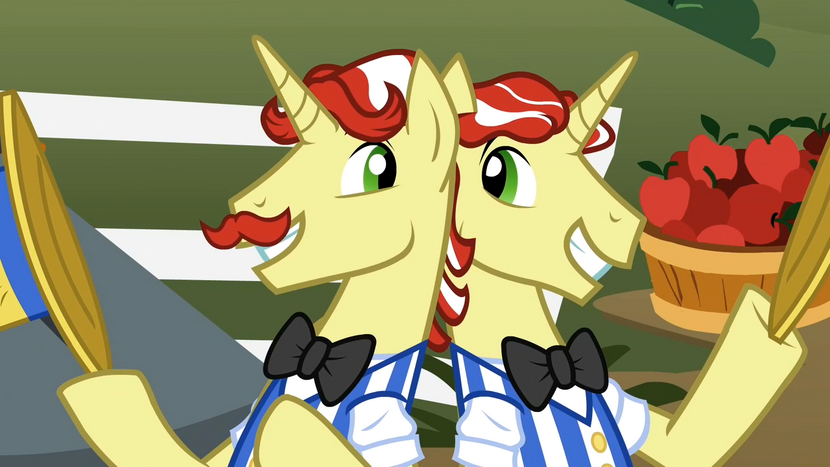 ...Into a running theme.
So Fluttershy goes to Iron Will's seminary which takes place inside a maze (Oh guys at Studio B, you are so delightfully intelligent) and we find out that he is probably the best one-shot character this show has ever had. Don't get me wrong, I love Trixie, I really like Gilda, and I'm starting to get why people enjoyed the Flim Flam brothers so much, but Iron Will is just freaking hilarious. Every time he's on the screen I snigger and cackle like a maniac, he is awesome. He is a buffed up ultra confident minotaur who is one quarter Mr. T and three quarters Terry Crews. I was expecting him to go "
Pah-Pah-Pah-Pah-Pah-Pah-POWER!
" and then explode through the stage. Well he doesn't do that but he says "I pity the foo' who doesn't take my advice!" and that's enough for me! He is so full of confidence actually that he takes on the challenge of showing how his program will turn anypony from a doormat into an assertiveness machine. How does he do it? Well the American way of course; with catchphrases and using the innocent mind of a pony. So he grabs Fluttershy and shows everyone in the audience how his program works and for all we know it actually does. After one lesson Fluttershy shows up to be assertive enough and so she takes on Iron Will's program to become more confident. What follows then is equal parts heartbreaking and hilarious.
Apparently this program does have a catchphrase for every situation Fluttershy needs to pony up and stand her ground, so she goes out to put it on practise. Things seem to start pretty okay for what the program is worth as she takes on those who actually are stepping on her terrain. She calls out to the old pony who over-waters her petunias with splashy results, dunks a pile of trash over two ponies who were blocking the only bridge that connects Ponyville to her cottage (kind of weird when she could've just flown over them) and pushes away the one pony who sneaks in front of her in line. So it looks like the program works really okay, right? Well not really, no. She starts enjoying way too much being over confident and begins to take over those who simply annoy her even if it's not their fault. She dunks a bowl of punch over Pinkie Pie just because she was laughing (she didn't know if she was laughing at her or not), stuffs the mail pony into a mail box for getting the wrong address due to his poor eye sight, and bucks away a tourist because he made her drop a letter on a puddle of water. Rarity and Pinkie Pie see this display and try to settle her down only to have Fluttershy verbally assault them in the meanest way ever. This is the part of the episode that was the hardest for me to watch, to tell you the truth. Fluttershy isn't just mean, she is bitter and hurtful, as she emotionally destroys them calling them banal and superfluous, and declaring their work pointless and useless being something nopony cares for. Now this is really interesting because Fluttershy insults that one thing many fans use to declare that Pinkie Pie and Rarity are worst ponies. Even to this day, with their personalities fully flexed and still getting expanded upon (with Rarity being a fashion elite in Canterlot and Pinkie Pie being the most popular pony in Ponyville), both of them are considered by the fans as some of the most shallow and flat characters in the show. Usually these complains use their interests in fashion and parties as ammunition to open holes in their personalities, which is why I find it so funny that Fluttershy, for that short period of time, channels the rage of some of the most picky fans. And then she almost drops the F word.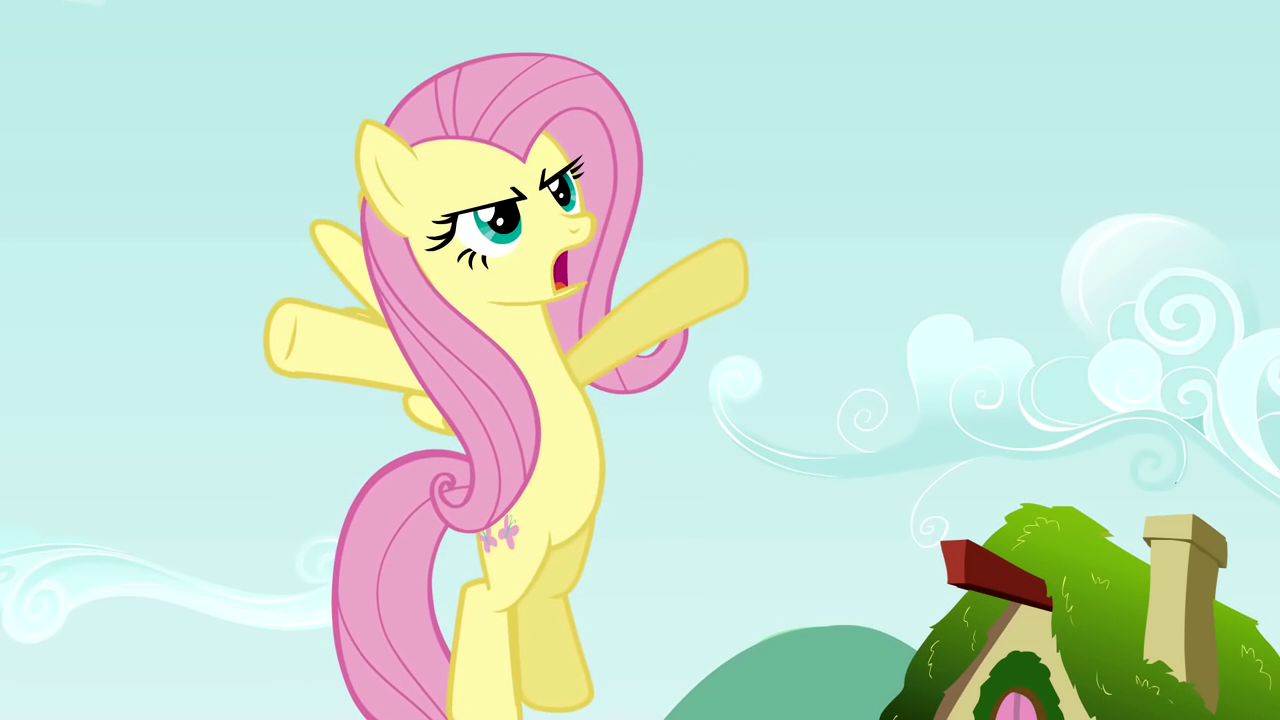 Next time I will use the "C" word. That's right, I will say "Canteen"!
Nah, she doesn't, but in my head she almost did! It was one of those moments where any adult fan would stop his or her brain right before the letter "F" as the muscles of their bodies lock in place due to pure reflex. Of course she just goes and says "Feather" making the released laughter from the joke sound incredibly nervous and even awkward, but don't tell me you didn't go for just one second "Wait, what!? Did she just said what!?". It makes me think on the many outtakes Andrea Libman must have needed when recording that line. I hope we never find out for the love of Luna. Besides, it doesn't really matter because this display of meanness upsets Rarity and Pinkie Pie so much they run away crying their eyes out. Fluttershy looks at her distorted image in a puddle and realises she has become something she's not, so she locks herself into her cottage to never come out. However Rarity and Pinkie Pie show up again as they are still worried for her, right when Iron Will presents himself to collect his money. Which is kind of weird, didn't he say that the program was free? Oh no, wait, he said the first lesson was free. Fluttershy has taken the whole program, now that makes sense. I haven't seen many people complaining about Iron Will's attitude, and I'm happy to join them for the following reason. Iron Will is presented as a fairly reasonable individual. He is not there to claim the money just because he's evil or mean, he is there because it's his business and according to him it went pretty well. Fluttershy is more assertive after his program and so he goes get his payment for it, fair and square. Even after tearing the boards off of the door he knocks politely on the door, that was a nice touch. Rarity and Pinkie Pie try to stop him but it's useless as their seductive or tricky ways don't work on Iron's badassery.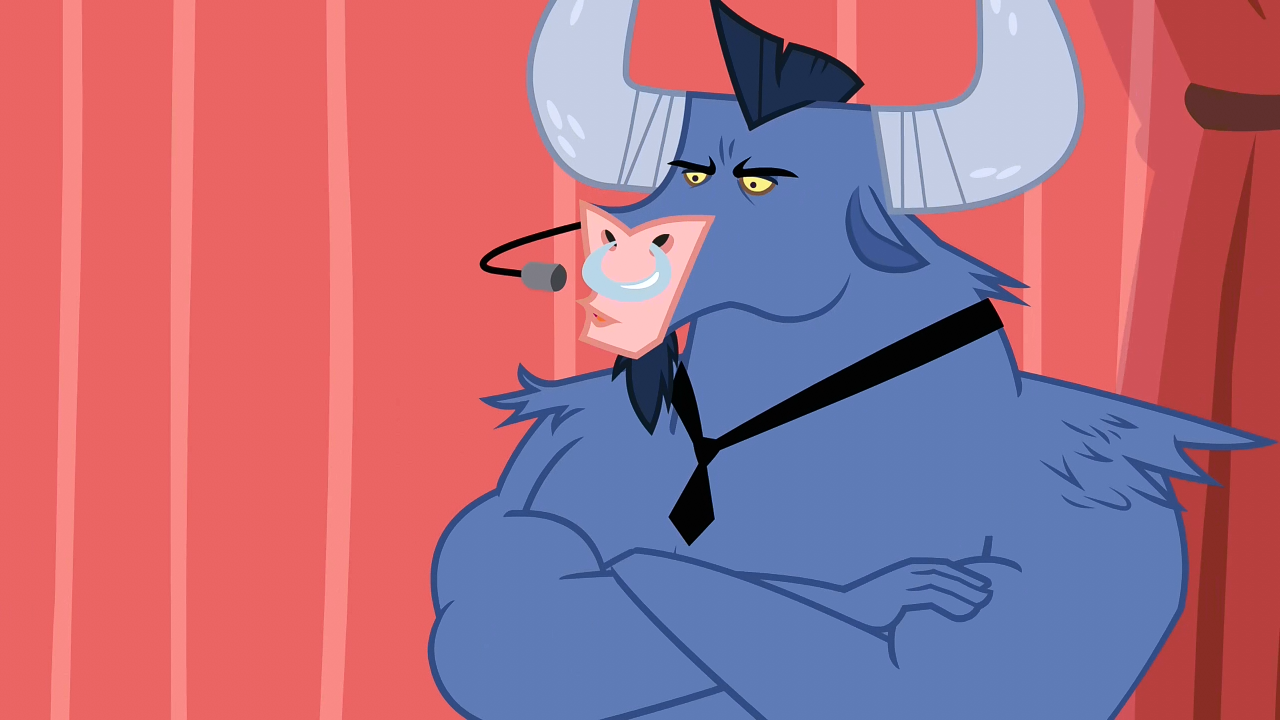 Seriously guys, he could only be more badass if he was on fire.
But then Fluttershy comes out and confronts Iron Will saying that she is not satisfied with the results. And because she's not satisfied she is not going to pay one bit for the course. Iron Wills blows his nose, charges at her, agrees with defeat and departs from her cottage. That whole part was perfect. Not only it portrayed Fluttershy as a more confident pony who can measure how assertive she can be, but it also portrayed Iron Will as the most reasonable antagonist this series has had. He admits his defeat. He doesn't get angry, he doesn't rage, he doesn't run away cursing or shaking his fist. He just shrugs and says "Yeah you're right. I'll be going now". Brilliant! That was really good. After that, Rarity and Pinkie go to Fluttershy and she apologises to them for being so mean. They tearfully hug and stay friends, isn't that sweet? Fluttershy then writes to Princess Celestia telling her that one pony shouldn't change the way they act in order to hold their ground and be confident. She also manages to get Angel to finish his salad with the help of The Stare.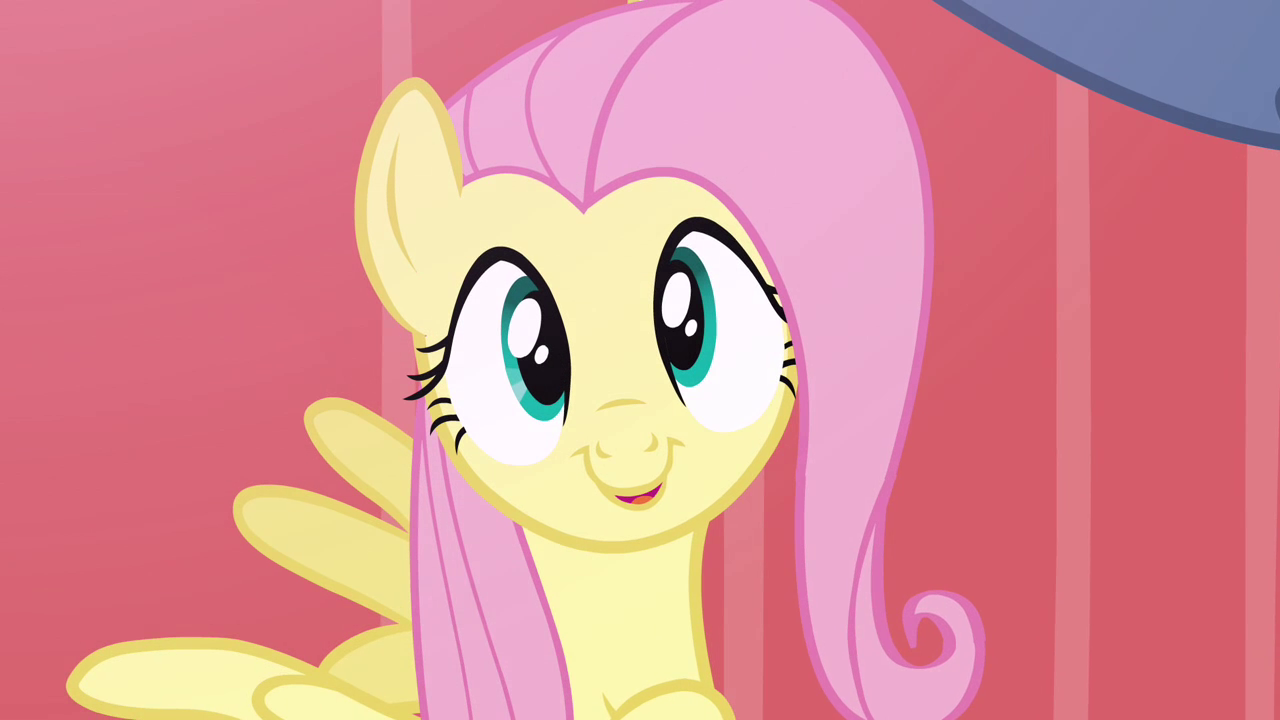 No, not this Stare. This one only works on Bronies.
So that was "
Putting your Hoof Down
". How was it for me? Well, I really liked it. I thought it is good and I'd put it in the same level as "
A Bird in the Hoof
". For an episode revolving around Fluttershy there was also a lot of Rarity and Pinkie Pie going around. Despite it lacks half of the mane cast I really didn't miss their presence. I'm pretty sure that was an effect of focusing more on those ponies whose personalities contrast more with Fluttershy's. Pinkie is all out going and cheerful, and Rarity is sociable and, well, eye-fluttering. So it does get to me when Fluttershy grows oh so confident and downright bullies her friends, since it's something that hits me very, very, very close. You see, I am like her in many ways, and many times I do get tired of people bossing me around; or sneaking in the market line before me; or taking that one thing I wanted; or just being downright mean to me for no other reason than being mean to me. So many times I do react the wrong way and I act like a meany head, which is something that hurts both me and that person, because I am not like that. So I was sold on Fluttershy's dilemma right away. Just for how much I can relate to the characters I am giving a big seal of approval to the story. It's a subjective way to approach it I know, but when something hooks you up it hooks you up. I will say though that this is the first time we have an episode where the story is by one writer and the writing is from the other, and to tell you the truth it shows. It does feel like a Charlotte Fullerton story written by Merriwhether Williams, but that's not a bad thing, at least for me. I love both writers, hell I might be in the minority when I say that I enjoyed "
The Mysterious Mare-Do-Well
" episode. I just point it out for those who might not enjoy it the same way I do, even if it's just for all the Batman refferences.
Who got them!? Who did this!? Where's Scarecrow!?
What else did I enjoy? I love Iron Will. I really love this guy and I am sad to realise he might be a one shot character that will never show up again. He was funny, he had charisma, and he had depth. He wasn't the typical asshole who wants to take you down, he actually comes across as a reasonable guy, likable even, and that's hard to get right. As I mentioned in the comments below, I think we can all agree with the fact that he is, in no way, the villain of the piece. He is a business, uhm, minotaur who wants to get paid for succeeding at his job. If there is any villain here that's Fluttershy! There also seems to be a running theme in the show to have the mythological creatures (gryphons, cockatrices, dragons, minotaurs) to be the antagonists and mostly be there for her to "vanquish". I also enjoyed seeing Pinkie Pie and Rarity hanging out together. I joked about it but it does seem like Studio B likes to pair them quite often. I think they do so because Pinkie and Rarity make for a great contrast and in the end the best types of friendships are those where the friends are the most different between each other, am I right? Think about it carefully. Having no song in this episode allowed me to enjoy that direct recreation of the "Eye of the Tiger" they gave to Iron Will when he first shows up, even if the rest of the music feels a bit forgettable. It was gleefully surprising to see
Derpy wearing a saddle with a muffin clasp
, great wink to us guys of Studio B! Fluttershy going insane and over confident brought back Psycho-Shy and Flutter-Bully and threw them together in a blender, that was cool too. And even though I know I should hate his guts I still love to hate Angel Bunny. I mean he does act like an ass in this episode, but he does because Fluttershy never stands her ground against him, but when she does he learns sometimes it's beneficial to do what she orders. Even the pets have character arcs in this series, how weird is that?
If I try to think on the bad stuff I could have a really hard time doing so, because the more I think about it the more I realised this episode didn't have any really major flaws, at least right away. There is a moment however that is really hard to watch for me, and that's when Fluttershy insults her friends (I said it's funny yeah, but I also said it was heartbreaking) making them run away in tears. I am the first one to enjoy seeing characters I love suffer that much, but this is getting downright saddistic guys.
The crying counter
is on the edge of blowing up this season! I bet you not we are going to have an episode which will be just twenty two minutes of ponies walking around and crying their eyes out for no reason. Without thinking too much about it (and why would you) this was a very straight forward episode that aimed to give Fluttershy an influx of personality. I guess we can call the success card on that one guys, because it worked really well. Now don't take so long for another Fluttershy episode, will you?
- Defining Moment:
The dialogue between Fluttershy and Iron Will at the end of the episode which pretty much sums up into this.
Iron Will:
"Give me my money!"
Fluttershy:
"No."
Iron Will:
"Okay."
- Moral:
Just because one is assertive and has a lot of confidence that doesn't need to change who he or she is, and it's definitely not an excuse to be mean to everyone. This is something I should apply more often, sometimes I get unbearable when I am over-confident.